The sea of red turns plaid for the night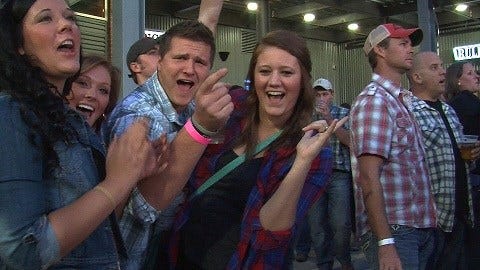 By: Megan Conway
As typical with Husker game days, home–or–away, there's a large crowd in the Railyard tonight, but it wasn't the usual sea of red. Many of the Husker faithful weren't wearing red. Plaid, denim and boots were the top choices for clothing tonight.
Country music singer Jake Owen is playing at the Pinnacle Bank Arena tonight, starting just an hour after kickoff. So how did dedicated fans choose between cheering on their Huskers or singing their favorite country songs?
"I have not seen him in concert and he's one of my man crushes," says Morgan Holz, Jake Owen fan.
For Russell Walton, the concert wasn't his choice, but his wife's. During the concert, he followed updates of the game on his phone and watched the Railyard big screen between performers.
"I'll be the guy giving updates to our whole section. On my walk down here, I thought why didn't I wear Husker red instead of the plaid, and the reason is because my wife picked out my shirt, too," says Walton, concert attendee.
Other Husker fans said it wasn't a hard choice, when their tickets were free after they were the lucky numbered caller in a radio give–away.
"We came down here to hang out in the Railyard because it's a really awesome place, but we're excited to get over to Jake Owen," says Shelby Clark, free ticket winner.
"We had to watch the Huskers kick off before Jake Owen obviously, it's the Husker Nation," says Natalie Oho, free ticket winner.
Despite the country super star playing across the street – his second performance at the arena, there was still plenty of red left in the Railyard to cheer on the Huskers.