Thousands pack Pinnacle Bank Arena for first annual Capital City Beerfest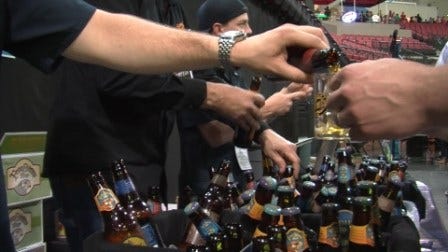 By: Lauren Fabrizi
lfabrizi@klkntv.com
People across Lincoln had a chance to quench their thirst at Pinnacle Bank Arena Saturday at the first annual Capital City Beerfest.
"A lot of different venues, a lot of different flavors," Alyssa Broin said.
"Great event, a lot of beer out here, a lot of good ones actually," Jess Fernau added.
For just $20 or $30 at the door, people were given a two-ounce mug with unlimited access to beer samples from about 200 domestic and imported craft beers.
Arena officials said an event like this is something they've wanted to bring to Lincoln for a while.
"Beer is certainly a staple with certain sports," Charlie Schilling of the arena said. "We're a multi-use sports venue, concert venue. We think it adds an element of fun that fits entertainment and food."
The event also featured educational beer sessions, which ran throughout the evening, and blues music filled the air as people voted for their favorite regional and local beers.
"Buffalo sweat, favorite one so far," Fernau said.
"Nebraska Brewing Company was really good," Thomas Ringsmutch said.
"It's great to try new things," Patti Schneider said.
Winners:
Best local beer: CIB Cheri Tart from CIB Brewery in Iowa
Best regional beer: New Belgium Summer Ale, Fort Collins, CO