Three Peregrine Falcon chicks banded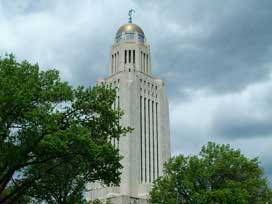 The State capitol is the home of three new Peregrine Falcon chicks. The falcons began hatching in mid May. The chicks are now 18 days old and are being raised in a nestbox on 18th floor of the Capitol building.
Friday the three chicks were banded by Nebraska Game and Parks with a unique number, letter and color combinations so they can be tracked in the future. Blood was also collected for an ongoing genetic study conducted by University of Minnesota.
Friday we found out the sex of the chicks. 2 are boys and one is a girl. Males and females can be identified by examining the feet. Female Peregrines chick's feet are larger. The Nebraska Game and Parks commission is asking the public to help name the chicks. To give suggestions you can log onto www.outdoornebraska.ne.gov