Thunderbirds soar into Omaha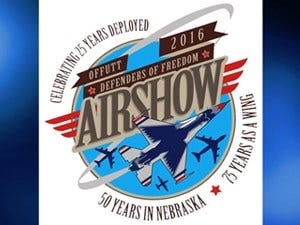 Posted By: Nicole Cousins
ncousins@klkntv.com
The Defenders of Freedom Airshow is set to take the runway this weekend in Omaha, and so is West Point native Major Nick Krajicek — for the first time in front of his family.
"My mom is super excited," Krajicek said. "I'm a little nervous I'm going to make sure she sits down for the whole thing because there's times I think she might pass out."
Krajicek is U.S. Air Force Thunderbird pilot No. 4 of 8 to take to the skies this weekend at Offutt Air Force Base.
Dozens of others will be behind the scenes choreographing the aerobatic airplanes during the show.
"To be a part of this team 132 people that demonstrate the pride, precision, and professionalism of the United States Air Force representing nearly 680,000 airmen you know in the total force is just amazing," Krajicek said.
These F–16 Fighting Falcons aren't for the faint of heart, either.
With max speeds at 1,500 miles per hour, the $18 million fighter planes can also pull off some white–knuckle, breath–taking stunts.
"My favorite part of the thunderbirds is when they come across and it looks like they're going to crash and then they pull out at the last second," Air Show director Captain Hunter Horst said.
The Thunderbirds are one of 14 flight performers at the air show this weekend.
The hour long shows are Saturday and Sunday at Offutt Air Base in Omaha, with the show starting at 9 a.m. both days.
For more information, visit offuttairshow.com.