Tone alert at downtown intersection gone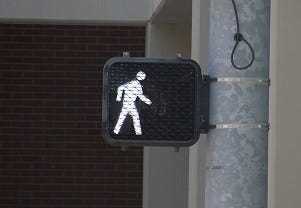 Posted By: Jenn Hatcher
jhatcher@klkntv.com
A change at a busy downtown intersection has basically gone unnoticed and most the people affected say it's okay with them.
Lightning struck at 11th and O streets in downtown Lincoln earlier this year creating big problems.
"Took out pretty much all of our electrical equipment," explained Randy Hoskins, Assistant City Engineer.
The strike ruined the system that ran the pedestrian push buttons at that intersection.
The system also had a tone it let out to help the visually impaired.
It was the only intersection with that type of alert downtown.
"It would notify the pedestrian when the signal turned for them to walk in their particular direction and then would let them know when they should be walking," said Hoskins.
For financial reasons the city chose not to replace the buttons at 11th and O streets so right now all that remains is a hole in all the poles.
It's something Carlos Servan is okay with.
"We get training on walking and we don't want people to think that we need a special accommodation to walk on the street," said Servan.
When he was 20–years–old, Servan lost his sight and a hand in a grenade explosion.
He's now the deputy director of the Nebraska commission for the blind and visually impaired.
He says, the tones the crossing system lets out, don't help.
"We tell them, listen to the traffic and they realized to just rely on the traffic, not on that extra sound," said Servan.
The only other intersection in town with a similar system is at 48th and O, which the city plans to keep in place.