Tree falls onto home from lightning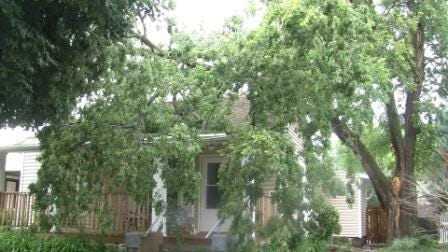 Posted By: Megan Conway
More severe weather means more clean–up for many Lincoln residents. Debris and branches can be found everywhere. In one neighborhood, even on top of a house. A bolt of lightning split a tree in Judy Young's yard and one half landed on her roof.
"We heard a crash, sort of a boom and a rumble. We just thought it was thunder and then we realized, no, it was louder than thunder," says Young.
Thankfully, the tree didn't puncture the roof, but it did leave behind some damage. The Youngs haven't had the best luck with trees. Last October during a snow storm, one fell in their backyard knocking out power. This time they could barely get through their porch.
"Oh, we were just amazed; couldn't believe it, just wow! It's crazy," says Young.
Another area hit hard was the southwest 15th and Van Dorn neighborhood. There are multiple fences down and trees uprooted. One family found their shed destroyed and in a neighbor's yard four houses away. Another man's trampoline blew onto Van Dorn streets. Andrew Feilmeier didn't hear the storm, but he sure saw the damage.
"I saw all of the trash cans were washing away down the street. I noticed the neighbor's tree was down and then I realized, if this is what the front looks like, I better checkout my back," says Feilmeier.
He had to take the day off from work to get things back to normal.
"Both sections of my fence, this half and the far half was basically laid out, this side against my deck and this over my neighbor's yard. The tree that was here, it was basically covering the swing set behind me," says Feilmeier.
Luckily, no one I spoke to had flood damage and they praised the city for its quick response in removing downed trees.