Trev Alberts will be inducted into College Football Hall of Fame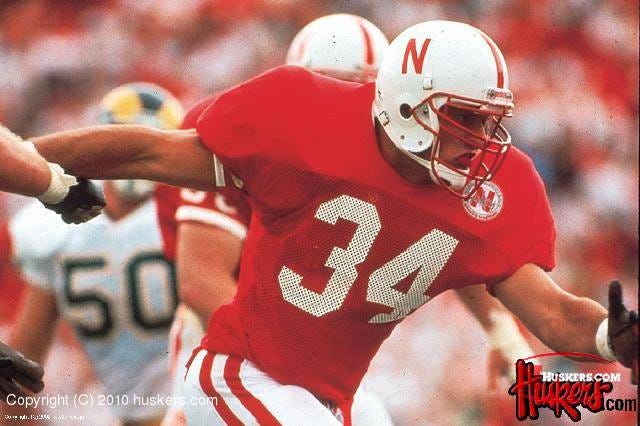 POSTED BY: KLKN Newsroom
8@klkntv.com
Nebraska great Trev Alberts is among 17 standout student-athletes and coaches who are part of the 2015 College Football Hall of Fame class. The 2015 list of inductees was announced on Friday in Dallas by the National Football Foundation and College Hall of Fame.
Alberts will become the 17th Nebraska player in the College Football Hall of Fame, along with six former Cornhusker coaches. He and the other members of the 2015 Hall of Fame class will officially be inducted in New York City on Dec. 8. Alberts is the fourth Husker in the past seven years to be named to the Hall, joining 2013 inductee Tommie Frazier, 2011 honoree Will Shields and 2009 inductee Grant Wistrom.
Alberts currently serves at the Director of Athletics at the University of Nebraska-Omaha, and said the honor is a result of a team effort at Nebraska.
"I am humbled to be selected to the College Football Hall of Fame, and honored to be able to represent the University of Nebraska and all of those who supported my student-athlete experience," Alberts said.
"I had the great privilege of being surrounded by others who made a 'Hall of Fame' difference in my life, including my family, teammates and a true Hall of Famer—Coach Tom Osborne."
Alberts joins Osborne in the College Football Hall of Fame. The former Nebraska head coach was inducted immediately following his retirement in 1998. Osborne said Alberts is a worthy Hall of Fame selection.
"Trev was one of the greatest pass rushers I have seen," Osborne said. "He had a tremendous first step, was explosive off the ball, played with high intensity and was a very intelligent football player. We switched to a 4-3 defense while Trev was here and that really helped him as a player, and that had a tremendous impact on our success as a defense. He was a great asset for our program and had a great career for us."
Alberts completed his Nebraska career with one of the finest defensive seasons in school history in 1993. Alberts won the Butkus Award and led Nebraska to an undefeated regular season and an appearance in the Orange Bowl against Florida State, where NU fell just short of a national title. Osborne noted that Alberts' dominant senior season played a key part in Nebraska's run of success from 1993 to 1997.
"Trev played on a team (1993) that played at a high enough level to win a national championship and certainly could have won it," Osborne said. "I felt bad that Trev wasn't one of of those national championship teams. He was one of the guys that was instrumental in putting us in position to win national championships."
As a senior co-captain in 1993, the Cedar Falls, Iowa, native was named the Big Eight's defensive MVP. Alberts led the Huskers with 96 tackles, including 47 solo stops, and tied a school record with 15 sacks for 88 yards. He also had 21 tackles for 99 yards lost, three fumbles caused, one pass breakup and 38 quarterback hurries, all of which were team highs.
Alberts recorded eight double-figure tackle games and had at least one sack in nine games. In the final regular-season game, he dislocated his elbow, but returned to play in the Orange Bowl, where he had six tackles, including three sacks for 29 yards lost, and three quarterback hurries, earning defensive MVP honors in the Huskers' 18-16 loss to FSU.
For his performance, Alberts was named a first-team All-American by every major publication and was named the Football News National Defensive Player of the Year, Big Eight Defensive Player of the Year and the Big Eight Male Athlete of the Year. His No. 34 jersey was retired at the 1994 Spring Game.
In 1992, Alberts totaled 73 tackles, including 11 tackles for loss, as he earned first-team All-Big Eight and second-team All-America honors. As a freshman in 1990, he was the Big Eight Defensive Newcomer of the Year, making 26 tackles, including four sacks.
Alberts holds the school record for career sacks with 29.5 (196 yards lost) and ranks fourth in school history with 45 tackles for loss (242 yards). He also had five fumbles caused, five recovered fumbles, six pass breakups and 69 quarterback hurries in his Husker career. His 248 tackles rank 11th on Nebraska's all-time chart.
Off the field, Alberts was equally honored, earning the NCAA's highest honor, The Today's Top Six Award, in 1993. A three-time academic All-Big Eight honoree, Alberts earned postgraduate scholarships from the National Football Foundation and Hall of Fame, NACDA Disney, the NCAA and the Big Eight. A CoSIDA Academic All-American in 1993, he graduated from Nebraska before his senior season.
Alberts was the fifth pick in the 1994 NFL Draft by the Indianapolis Colts and played for the Colts until 1996. He served as a college football analyst for several national television networks before moving into athletic administration at Omaha.
Alberts has been the Mavericks' Director of Athletics since April of 2009. During his tenure he has directed significant advancements in the areas of academic success, business, facilities, conference affiliation and rebranding for Omaha Athletics, and he has the Mavericks poised for full Division I membership in 2015-16.