Tribute to Trauma Champions preview, Taylor Graham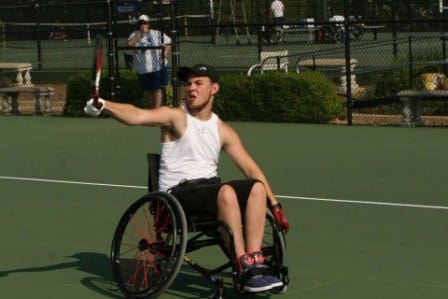 Posted By: Jenn Hatcher
jhatcher@klkntv.com
A group of people, who helped save a Lincoln man's life, will be honored on Wednesday.
"I've come a long way in a considerably short amount of time given the circumstances of the accident," explained Taylor Graham.
In August of 2013, Graham was riding his motorcycle near 14th and Pine Lake Road when he noticed a van ahead with the tail lights out. He slammed on the breaks, skidded 100 feet and then went flying, hitting the van head first. He says despite the trauma, he remembers everything. "The only thing that I could feel was the extreme, what felt like, weight on my neck," said Graham.
The then teenager was rushed to the Bryan West Trauma Center. Some of his injuries: a liver laceration, lung contusion, fractured sternum and spinal damage leaving him a quadriplegic. Trauma Center director, Reginald Burton, MD, was there when Graham arrived. He described the situation, "It looked like his leg was torn off, huge laceration on his leg with an open fracture with a femur fracture sticking out."
The now, 20–year–old, was in surgery for six hours and spent nearly a week in the Bryan ICU. Then, spent three months at Madonna Rehabilitation Hospital, where he regained some mobility, though he remains in a wheelchair.
Since being released Graham has continued rehab, while taking welding classes at Southeast Community College and enjoying a new hobby, tennis. He's now the quad–a division, national champion. Graham said before his injury, he'd never even picked up a racket, "I had no interest in the sport, had never even really fooled around just for fun and low and behold, it's become a major passion of mine."
This Wednesday Graham will get to thank the men and women who've helped him through his recovery, at Bryan Health's annual Tribute to Trauma Champions event.
Graham said, "There's not really any magic word that can repay them for what they've given to you and what they've done for you."
His dad, Scott, added, "You think about all the skills that have to be in place, all the tools that have to be in place, for Taylor to get the best chance to survive, I don't think Lincoln understands what we have."
Those close to Graham say his positive attitude is what's gotten him so far. Graham says before the accident he was headed down the wrong path but he now calls that scary day a blessing, that's helped him once again find a relationship with God. His mother Paula said, "His return to his faith as his main important thing in life, to us that's all that matters, we can deal with whatever else comes along."
The seventh annual Bryan Tribute to Trauma Champions event is Wednesday, April 22, at 6:30 p.m. at Embassy Suites. Channel 8's own Rod Fowler will be emceeing.
More information can be found at http://www.bryanhealth.com/2015-trauma-champions