Updated: Two arrested in boat collision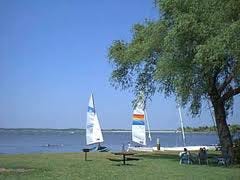 By: Ian Hest
IHest@klkntv.com
Eight people were injured in a boating accident on Branched Oak Lake.
Now, two men face charges after that boat collision Friday night.
The Lancaster County Sheriff's office says 19-year-old Kyle Garrett was arrested for boating under the influence and being a minor in possession of alcohol. 19-year-old Dylan Colton was cited for suspicion of minor in possession.
Sergeant Mike Novacek says Garrett was operating a large Sea Ray motorboat anbd hit a dock and landed on a small sailboat, sending its 6 passengers overboard. Garrett and Colton were also taken to the hospital. All of the sailboat passengers are expected to surivive.
Jerry Price says, "A lot of commotion. You could hear them coming across the dam, the emergency people."
One person was flown to the hospital. The sheriff's office says that person suffered broken ribs and cuts to his face. The sheriff's office adds Garrett is on probation for DWI.