Two Lincoln moms share their stories for Autism Awareness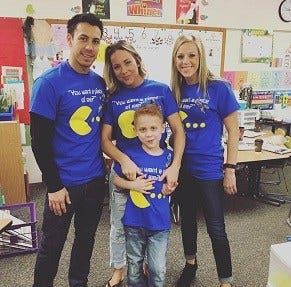 Posted by: Marlenia Thornton
mthornton@klkntv.com
3–year–old Camden was diagnosed with Autism last spring.
It's a group of complex disorders that deal with brain development.
Camden's mother, Kendra Bryant, said she noticed the signs early like him not crying when hungry as a baby and not responding to his name.
She said the diagnosis was a bit of relief.
"I knew there was something different about my child and I wanted to know the best way to help him," Camden's Mom Kendra Bryant said.
Jay is a first grader at Kahoa Eementary and also has Autism.
His class dedicated most of Friday honoring him and raising awareness for the disorder.
In fact, April is Autism Awareness month and Saturday World Autism Awareness day.
They spent part of the day playing outside and eating pizza.
His teachers and classmates even surprised him and his family with this poster.
It said all the things they love about him.
His mom, Amera Nix, initially feared her little boy wouldn't be accepted because of his diagnosis.
The surprise gave her comfort.
"Jay is just another friend to them and that they love him, they're going to be there to stick up for him over the years. It's a really awesome feeling," Jay's Mother Amera Nix said.
Autism is one of the fastest growing developmental disorders in the U.S.
These moms hope sharing their stories will increase understanding and support for the local Autism community.
"Your child has autism. My child has autism. We love you and we're family now and we're there to support you and that's been amazing," Bryant said.
"It gives me purpose. It makes me know my struggle has been worth it. That I help others and that I give others hope," Nix said.
The Lincoln Family Autism Network is also hosting a 5K.
For details about the 5K, click here.
For more information about Autism, click on this website.