Two more months of work on I-80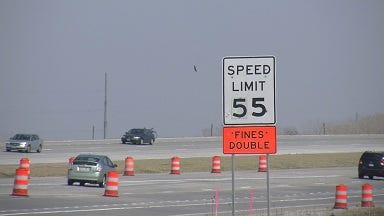 By: Jenn Hatcher
jhatcher@klkntv.com
Now that the weather is warming up, construction crews are
back to work on Interstate 80.
Thursday night, a four mile stretch, through Lincoln, was closed for three hours.
In just two month the project that seems to drag on, will be
complete.
Many thought a ribbon cutting more than five months ago meant
the orange signs and barrels on the side of the road would soon be gone.
"It was a commemorative event rather than an actual
official opening," says Curt Mueting with the Nebraska Department of
Roads.
We now know, the ribbon cutting, only marked completion of
construction westbound, work continues eastbound between the 56th street exit and Waverly.
Mueting says, "I'm confident they'll be done by the
middle of June and if they can get done sooner, the better."
Currently crews are repairing faulted areas and will soon put
down permanent cement and striping.
Ed Shaw, with OmaLink, looks forward to that day in June when
he can make a clear shot out of Lincoln.
He says, he's in awe of the organizational skills behind the
decade long project that stretches from Omaha to
Lincoln.
"I have to give it to the engineers and the way they
progressed as they progressed on the construction and they way they changed the
lanes to make traffic move; I thought they did a magnificent job."