Undermanned Husker basketball playing with heart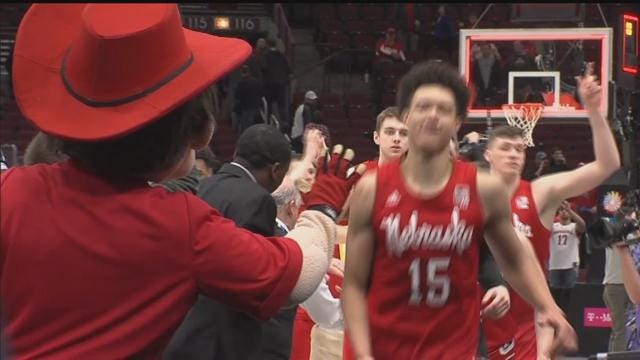 jkoller@klkntv.com
Heading into Sunday's NIT second round game against TCU, Nebraska men's basketball head coach Tim Miles says the undermanned Huskers are playing with a lot of heart. WATCH:
Courtesy: UNL Media Relations
The Husker men's basketball team looks to punch a ticket into the NIT quarterfinals on Sunday night, as the Huskers travel to TCU for the second round of the NIT. Tipoff at Schollmaier Arena is set for 8:35 p.m. and Sunday's game will be televised nationally on ESPNU with Mitch Holthus and Adrian Branch on the call. The matchup will also be available on the ESPN app and WatchESPN app with cable authentication.
The Huskers (19-16) are coming off a spirited 80-76 win over Butler Wednesday night at Pinnacle Bank Arena. Junior forward Isaiah Roby scored a career-high 28 points and grabbed eight rebounds to lead three Huskers in double figures. James Palmer Jr. and Glynn Watson Jr. added 23 and 17 points, respectively, as the Huskers shot 50 percent from the field and out-rebounded the Bulldogs, 36-26, to pick up their fourth win in the last five games.
The Huskers have battled down the stretch, dressing just eight players because of injuries, and have relied on its role players to make winning plays over the past two weeks. Against Butler, Johnny Trueblood came off the bench to set career bests in points (six), rebounds (seven), assists (five) and minutes (31). Thorir Thorbjarnarson, who moved into the lineup after injuries to Thomas Allen and Amir Harris, had four assists and three steals in 17 minutes of work.
The Huskers are led by a pair of senior guards in James Palmer Jr. and Glynn Watson Jr., who combine to average more than 30 points per game. Palmer is third in the Big Ten, averaging 19.7 points per game, while Watson averages 13.5 points per game and a team-high 3.0 assists per game.
TCU (21-13) tied for seventh in the Big 12 with a 7-11 mark and are coming off an 82-69 win over Sam Houston State on Wednesday. JD Miller's 15 points and eight rebounds led six TCU players in double figures as the Horned Frogs shot 54 percent from the floor, including 70 percent in the second half.
The winner of Sunday's game will play either No. 2 Creighton or No. 3 Memphis in the quarterfinals either Tuesday or Wednesday.
OPENING NUMBER
27 – Minutes per game for Johnny Trueblood over the last five games after playing a career-high 31 minutes against Butler. The senior walk-on played just 32 minutes all season prior to Senior Day on March 10.

NUMBERS TO KNOW
.925 – Nebraska is 37-3 under Tim Miles when shooting over 50 percent, including 15 straight wins dating back to the 2016-17 season.
+3.5 – Nebraska leads in the Big Ten in turnover margin, as the Huskers are third in fewest turnovers per game and third in forcing turnovers.
31 – Number of 20-point games for Husker players in 2018-19. James Palmer Jr. has 18 while Glynn Watson Jr. (five), Isaiah Roby (five), and Isaac Copeland Jr. (three) also enjoyed 20-point games this season.
+54 – Johnny Trueblood's plus/minus over the last four games, which spans 135 minutes of action. Prior to the Iowa game in the regular-season finale, Trueblood had played just 32 minutes all season and 61 minutes in his collegiate career
80 – Number of 3-pointers for Glynn Watson Jr., which ties for fourth on NU's single-season list. He needs just three 3-pointers to tie Ray Gallegos (2012-13) for third place.
280 – Number of free throws James Palmer Jr. has shot this year, a total that ranks second nationally as of March 21. Over the last 25 years, Reggie Evans (2000-01 and 2001-02) and Evan Eschmeyer (1997-98) are the only Big Ten players with more free throw attempts than Palmer this season.
689 – Points for James Palmer Jr., which ranks second on NU's single-season chart. He trails Dave Hoppen (704, 1984-85) by 15 points heading into the TCU game
2007- The last time Nebraska had three players with 20+ points in a game before it happened against Iowa with James Palmer Jr. (27), Isaiah Roby (23) and Glynn Watson Jr. (23).
ABOUT TCU
Under the direction of third-year coach Jamie Dixon, the Horned Frogs are making their third straight postseason appearance. TCU, which won the NIT in 2017, is 21-13 on the season following Wednesday's win over Sam Houston State. Dixon, who graduated from TCU in 1987, spent the previous 13 seasons at Pittsburgh, helping the Panthers make 11 NCAA Tournament appearances in that span. The Horned Frogs won 12 of their first 13 games following a win over Baylor on Jan. 5, but finished 9-12 down the stretch. Their most impressive non-conference win was a three-point win over Florida in the Big 12/SEC showcase on Jan. 25. In conference play, TCU's season was highlighted by sweeps of both Iowa State and Texas. TCU, which tied for seventh in the Big 12, lost to Kansas State in the quarterfinals of the Big 12 Tournament.
TCU, which is down to only eight scholarship players available, is led by its backcourt of Desmond Bane and Alex Robinson. Bane, a second-team All-Big 12 selection, averaged a team-high 15.2 points per game while shooting 50 percent from the field and 42 percent from 3-point range. Robinson, a third-team All-Big 12 pick, is at 12.7 points per game while dishing out a conference-high 7.1 assists per game. Kouat Noi averages nearly 14 points a game, while Kevin Samuel anchors a Horned Frog defense with more than two blocks per game. As a team, TCU is third in the Big 12 in scoring a 74.3 points per game while shooting 46 percent from the field. The Horned Frogs are near the bottom of the conference in field goal defense and scoring defense, but rank third in steals (7.1) and fourth in blocked shots (4.4).
Series History: Nebraska leads the all-time series, 7-2, and this will be the first meeting between the two teams since a 69-57 Husker win during the 2011-12 season. Of the nine previous meetings, two have been in the NIT, a 67-57 win in the 1983 NIT quarterfinals in Lincoln and a 101-89 loss in Fort Worth in the second round of the 1999 NIT. NU is 1-1 against Big 12 teams this year, falling to league co-champion Texas Tech in the finals of the Hall of Fame Classic in November before posting a 79-56 win against Oklahoma State in Sioux Falls in December.
NEBRASKA POSTSEASON HISTORY
The 2019 NIT marks Nebraska's 26th postseason appearance in school history (seven NCAAs, 19 NITs) and second straight NIT appearance. It is the first time since 2007-08 and 2008-09 that Nebraska has made consecutive postseason appearances.
Nebraska is 24-17 in 18 previous NIT appearances, winning the 1996 championship in Madison Square Garden. NU also reached Madison Square Garden in 1983 (semifinals) and 1987 (3rd place).
Tim Miles is making his third appearance in the NIT, as he also reached the NIT at Colorado State in the 2010-11 campaign.