Union Pacific launches new railroad safety campaign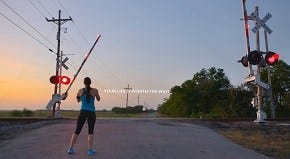 Posted by: Marlenia Thornton
mthornton@klkntv.com
More than 900 people were killed or injured last year nationwide by trains.
Union Pacific is taking action by launching a new safety campaign.
It's called "Your Life is Worth The Wait."
The campaign features three different videos with drivers and pedestrians encouraging them to obey railroad safety precautions.
A timely reminder after a up train struck a 10–year–old girl trying to cross some tracks in council bluffs Sunday.
"It's very important that drivers and pedestrians consider their own personal safety and make the right decisions when they are driving or walking near railroad crossings," Union Pacific Corporate Relations and Media Director Calli Hite said.
The company says the accident is still under investigation.
The girl suffered a serious head injury, but is in stable condition.
In Nebraska, there were 28 railroad crashes and 3 deaths last year.
This year, there has been one train–related death.
Safety experts want you pay close attention to flashing lights and the cross arms, but say don't solely rely on those things to keep you safe.
"You can have lights that malfunction, so when you're approaching a track make sure you slow down and that you look both ways and you're cautious going over the tracks," Nebraska Safety Council Executive Director Laurie Klosterboer said.
Here are a few other reminders:
Never try to go around the arms
Assume there is a train on the tracks
Look for additional trains
Clear the tracks completely
Lastly, don't think you're faster than the train.
"You're not going to win that fight with the train it's really not worth losing your life. Just take a moment and wait for that train to pass," Klosterboer said.
For more information about its recent safety campaign, visit this website:
http://www.up.com/aboutup/community/safety/crossing/