UNL Dance Marathon raises thousands of dollars for Children's Hospital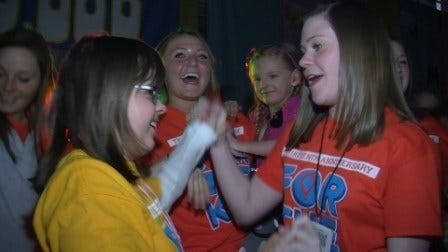 By: Lauren Fabrizi
lfabrizi@klkntv.com
7–year–old Willa Gardner of Lincoln was born with a rare birth defect that made it difficult for her to breathe.
For most of her life, she had a tracheostomy tube and was fed through her stomach. She's also been in and out of the hospital for 10 surgeries.
"The tube, there was always a sponge under it," Willa remembered.
But now, she's breathing and eating on her own.
"Now I can do a belly flop in the water and swim!" she said excitedly.
And Saturday, she showed she could also tear it up on the dance floor. It was all part of the University of Nebraska-Lincoln's annual Dance Marathon. Money raised benefits the Children's Hospital & Medical Center in Omaha.
"We're dancing for them, we're dancing to give them a second chance," marathon advisor Brock Renzy said. "Our logo is kind of, 'We dance because we can for those who can't.'"
Students must dance or keep moving for 12 hours straight. This year's event saw its largest turnout yet— 1,200 students hoping to raise $120,000. Money raised will go toward an entertainment system for the hospital's MRI machine.
30 families from the hospital put on their dancing shoes, too.
"Really, they're like celebrities on the day of dance marathon," student Conner Kozisek said. "Everyone just wants to be around them and spend the day with them."
"I love the dancing and the carnival," Willa said.
"She has not gotten tired once, it's incredible" student Lemmah Nasrati said.
Students across the country will be doing same all this month and next. Dance Marathon is an annual fundraiser for the Children's Miracle Network.
UNL students surpassed this year's goal and raised nearly $145,000.