UNL hosts national diversity and inclusion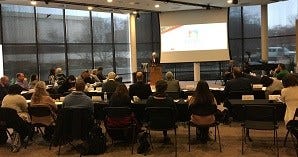 Posted by: Marlenia Thornton
mthornton@klkntv.com
The arts have long been a reflection of our culture.
It's often used as a medium for social change.
Now, educators from all over the nation are using that lens to talk about diversity and inclusion at the University of Nebraska–Lincoln.
They said artists create a safe space for these types of tough conversations on subjects like race, gender and religion.
"They have the ability to give us that space to be ourselves be unafraid to speak, but also be able to engage in dialogue for some pretty tough issues," Arizona State University Vice President Cultural Affairs Colleen Jennings-Roggensack said.
University leaders are attending a 3–day symposium regarding the topic.
It's being hosted by UNL.
After its own problems with racism on campus a few years ago, the university said it's glad to be leading the discussion.
"We want to take a leadership role in addressing this issue for the campus and while we did it for ourselves we thought let's do it with other universities nationally and come up for the best solutions and see how we can work together," Lied Center Executive Director Bill Stephan said.
The event allowed participants to share their own ideas as well as gave them tools to come up with action plans.
They said the collaboration was helpful.
"It's that exchange of ideas where I think things really start to pop and you get that excitement and energy knowing that there are 15 other campuses across this country who want to get behind this concept with you," Dartmouth College Representative Joe Clifford said.
Organizers hope this is just a launch pad for universities to create more welcoming communities.
The symposium was put together by a group called the major university presenters who meet annually.
It ends tomorrow.