UNL looks to start more talks of diversity and inclusion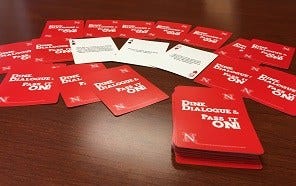 Posted by: Marlenia Thornton
mthornton@klkntv.com
The University of Nebraska–Lincoln is taking a proactive approach when it comes to campus race relations.
It's starting an event called Husker Dialogues.
The goal is to get first–year students talking about diversity and inclusion.
It's a continuation of these playing cards, which have questions as conversation starters.
"Those are the questions that students need to wrestle with both inside and outside the classroom, so it really makes sense to start the dialogue the moment they come in," UNL Associate Vice Chancellor of Academic Affairs Amy Goodburn, Ph.D., said.
"This gives them the opportunity again to have those conversations well and not hide from them," UNL Jackie Gaughan Multicultural Center Interim Director Charlie Foster said.
The university said this is part of its strategic plan and isn't directly connected to the Black Lives Matter Rally last fall.
Husker dialogues was sparked by some racism on campus a few years ago.
Some students agree this is a good idea after the events at UNL and in the US regarding race.
"It's probably something that's not going to come down for a while, so it's good to talk about it and get it out there, so there's not awkward tension or anything," UNL Senior Ashley Fasthorse said.
The program is a two part session happening on September 13th.
It needs 300 volunteers to lead those talks and almost 200 have signed up so far.
The conversations will be led by faculty, staff and students.
UNL hopes this will help freshmen be more open and honest with their peers.
"It provides for a unique opportunity for the students in a safe environment surrounded by those who are similar level to them," UNL Graduate Student Erika Bretscher said.
To learn more about Husker Dialogues and how to volunteer, visit website.