UNL makes strides for early child development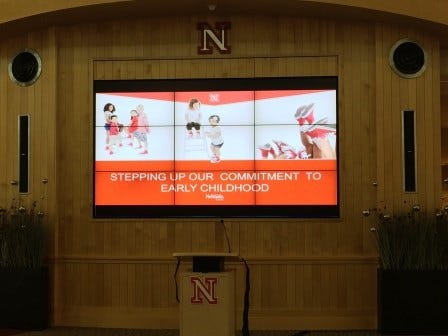 Posted By: Laurann Robinson
lrobinson@klkntv.com
Today, University of Nebraska officials, along with many others, introduced their newest plans to help further the fundamental development of our youngest Nebraskans.
Focused on newborns to kids 8 years old… and responding to the state's growing population of at–risk children… UNL announced its plans to "step up" their commitment to early childhood development.
Marjorie Kostelnik, Dean of the UNL College of Education and Human Sciences says, "we're ramping up our efforts in teaching, research and engagement with the community. And we're doing it by making new hires, by creating a new research academy and by expanding our extension efforts to really cover the state."
In addition to the 15 new hires expected, and the creation of the Nebraska Early Childhood Research Academy, UNL is adding to its global research efforts by collaborating with China, Turkey, and most recently, Brazil.
"People that are interested in policy and practice, both in the United States and in Brazil, and identify areas of shared strengths and shared priorities, so that we can determine the best way to help all young children across the borders," said Dr. Sue Sheridan, Director with the Nebraska Center for Research on Children, Youth, Families and Schools.
"It's the basis for the development of a citizen, a fully accomplished individual. Without a sound basis, this individual cannot develop," added Dr. Luiz Loureiro, a Brazilian researcher visiting Nebraska.
And Dr. Steve Joel, superintendent with Lincoln Public Schools, says this is both a short–term and long–term investment.
"If we start early enough with these kids, we take away the negatives of poverty, and we give them an opportunity to grow socially and academically and culturally, hopefully at the end of 13 years, 15 years, they're a University of Nebraska student."
While today's focus was mainly concerning the health, growth and education of Nebraska's children… many said they simply want to make sure every child in Nebraska can experience "the good life."