UNL professor opens 'bee hotels'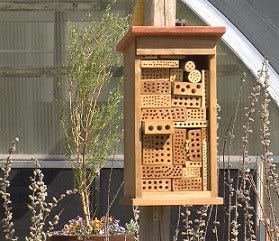 Posted By: Camila Orti
corti@klkntv.com
UNL's newest hotel is open for business, but it's not for people.
Entomology professor Tom Weissling is on a mission to save the bees. He decided to merge his passions for insects and wood-working to create 'bee hotels.'
"I took my love of woodworking, because I like to relax with power tools, and started putting these together," Weissling said.
After learning the national bee population is on the decline, Weissling took matters into his own hands. The wooden structures he makes are meant to provide nesting sites for solitary bees, bees that don't live in colonies or produce honey.
"A lot of what we eat wouldn't be here if it weren't for bees, we need them for pollination," Weissling said.
Weissling says it's easy to forget about the thousands of species of solitary bees that use tunnels to lay their eggs. Each bee hotel is made up of several blocks with various-sized holes drilled into them. The different sizes attract multiple species.
The first hotel was installed in an East Campus garden last summer.
"I didn't know what to expect, I thought if we just had a few of the holes used I'd be surprised but I came back and about 40 percent of them were utilized," Weissling said.
Now, his goal is to spread the word and put more bee hotels around Lincoln and Omaha.
It's not too late to set out your own bee hotel! Weissling says the easiest thing to do is drill holes at least 4 inches deep into logs or pieces of scrap wood and set them out near gardens. The diameter of the holes can range between 1/8 inch to 3/8 inch. Weissling advises to set the bee hotels so they're facing the morning sun, and to switch out the logs each year to provide clean, disease-free tunnels.