UNL professors, grad students use drones for research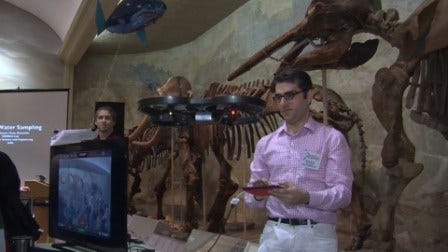 Posted By: Lauren Fabrizi
lfabrizi@klkntv.com
Drones. We've seen them used to capture footage most technology can't.
But here in Nebraska, professors and students at the University of Nebraska–Lincoln are working to make drones more than just 'flying cameras.' They're constructing drones at the NIMBUS Lab that would be used for agricultural purposes– things like collecting water samples and monitoring crop growth.
"We want people to be able to use them to do useful things, to support scientists in doing their jobs," Computer Science & Engineering professor Sebastian Elbaum said. "To support farmers in collecting the information and the sensing data they need to make good decisions."
About a dozen drones were on display at Morrill Hall Sunday. Families learned how they work, and tested them out themselves.
"I didn't know they can move in different ways," 8-year-old Ben Bustamante said.
"I like how they fly up in the air and twist and stuff," 8-year-old Livia Thomlinson added.
Right now, the Federal Aviation Agency bans the commercial use of drones. Journalists fall into that category. But recently, CNN, The New York Times, Associated Press and other media companies were granted permission to test them.
Sunday, the FAA released a list of proposed requirements for commercial users to meet, such as passing a knowledge test administered by the agency and a federal security check.
While there's benefits to commercial use, there's also concerns, like the issue of privacy.
"This technology, like any technology, has the capability to be used for good or bad purposes," grad student John-Paul Ore said. "We're here to try and help discover what it is possible to do, and also to try and build systems to try and allow us to control them in a way that we would know if something is about to happen."
Until regulations are made final, the commercial ban would stay in place. However, the FAA grants case–by–case waivers. At UNL, the agency has approved a couple locations in Lincoln for students to test out their drones.