UNL student earns prestigious scholarship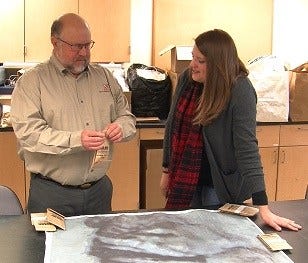 Posted By: Nolan Crane
A UNL graduate student is $1,200 richer after earning a prestigious scholarship. Here's Monday, March 2nd's "Excellence in Education."
Amanda Hefner is researching and studying the effects of a massive wildfire in North Central Nebraska. That's where more than 76,000 acres were destroyed back in 2012. With her professor's help they're looking at soil and seed samples to determine what type of wildlife and vegetation will grow back. Thanks to the Nebraska Statewide Arboretum, Amanda will graduate debt free.
"My goal eventually is to stay in Nebraska and work on land management here whether it's grasslands or forest. I love Nebraska, love living in Nebraska and I think natural resources is a huge part of Nebraska and what it's citizens represent and so I'd really want to stay here," says Amanda Hefner.
"It's been exciting, we've had a number of different sources of funding and she's had several awards including this one that kind of reflects both her academics but also her enthusiasm for the work," says Dave Wedin.
Some of those awards Amanda has earned include other scholarships while studying here at UNL. She is also on the dean's list and when she earned her undergraduate degree she did so with honors.