UPDATE: Man arrested for arson in hotel fire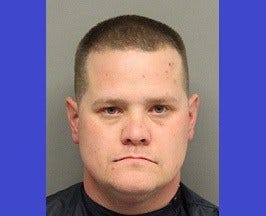 By: Camila Orti
Dozens of hotel guests were evacuated early Monday morning after police believe a man intentionally set his room on fire.
Police were called to the Holiday Inn Express near 12th and West Commerce Way after receiving a call from a guest in distress shortly before 4 a.m. Officials say when police arrived, the person wouldn't open the door to his room. That's when the fire alarm went off.
"I didn't pay much attention to it at first but then as more fire trucks started showing up, more and more people started going outside including myself," hotel guest Alycia Gilliland said.
Gilliland was one of 35 people staying at the hotel. She says firefighters began evacuating guests.
When police finally got into the caller's room using a master key, a man was found inside alone, with "the room filled with smoke," LPD Ofc. Katie Flood said.
Officers say they found 33-year-old Colorado man Joshua Berney hallucinating. Police believe he lit his bedding and a pile of belongings on fire. After being checked out at the hospital, he was arrested for first degree arson.
Fire investigators say heavy smoke and water damage forced all guests to stay at other area hotels.
"The second floor is well-flooded and everything was dripping through to the first floor, the lobby area's flooded," Gilliland said.
Fire inspector Chuck Schweitzer says the sprinkler system did its job, containing the fire to the room where it started. But, it also added to the damage estimate- now at $150,000.
Fire officials say nobody was injured in the incident. Schweitzer says he thinks guests should be able to stay in third and fourth floor rooms within a few days, but the first two floors might be out of commission for awhile.