UPDATE: Neighbor saves woman from fire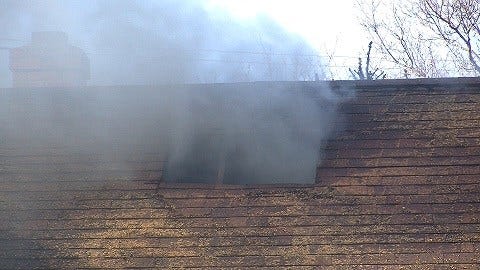 Posted By: Jenn Schanz
jschanz@klkntv.com
Lincoln Fire and Rescue crews say an improperly discarded cigarette sparked a large house fire in North Lincoln.
It happened Monday morning around 10 near 56th & Leighton.
Luckily, a quick-thinking neighbor sprang into action, and helped warn the woman inside the home.
"I just happened to look that way and I saw smoke off the back side of the house. So I ran over there to see what was going on," says neighbor, Joe Benes.
He says he ran over and yelled to make sure the woman was awake. When he didn't hear a response, he opened the door and yelled again.
This time, she responded. Benes says he stayed to make sure she got out okay.
Fire crews say the smoke and flames were visible from quite a distance. I spoke to a woman who lives down the block.
"All of a sudden there was an explosion, my whole house shook. And I came out and saw the flames and the smoke right down the street here and I thought oh my goodness I hope the neighbors are okay down there," says neighbor, Carrie Burkharc.
Thanks to Benes, they are.
The house, is another story.
"It looked like the covered porch in the back is the main bulk of the fire, where the fire was at," says Battalion Chief Derald Murrell of Lincoln Fire and Rescue.
Officials say the fire caused more than $60,000 in damage. Still, they say it could have been a lot worse.
"It's a good thing neighbors watch out for each other, because that really helps us a lot," Murrell says.
"I'm just glad that, you know, we got her out," says Benes.