UPDATE: Residential parking ban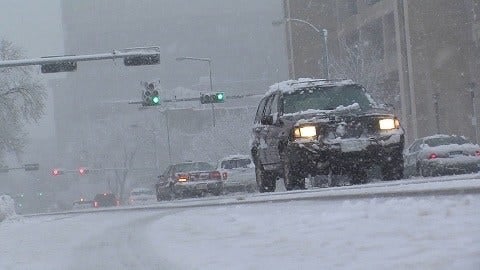 Posted By: Jenn Schanz
jschanz@klkntv.com
Two big snow storms back to back have kept the snow plows working overtime.
Early this week, the city put in place two parking bans to let the plows work; a ban on emergency and bus routes, and a ban in busy snow removal districts, like downtown and Havelock.
After Wednesday's whiteout, the city put in place one more.
"Parking is now banned on the even sides of the streets, that's the north and east sides, in all residential areas," said Mayor Chris Beutler Thursday morning.
The ban took effect at 8 a.m. Thursday.
The city will move onto the odd sides of the streets Friday morning at 8 a.m., and lift the ban on the even sides.
If you're car isn't moved, you could face a $35 fine for parking in residential areas or snow removal districts and a $50 fine for parking on emergency routes.
We asked how you think the city has handled the snow removal.
"You know it's just a mess," said Larry Nelson of Lincoln.
"All pretty reasonable," said Dale Brondel.
City officials say they're proud of how quickly they got the snow off main streets; they used 90 pieces of equipment and called in contract workers and farmers for help.
They say the bans could be lifted in a matter of days, but they need the public to work with them.
"We do need to ask for people's patience, even when we have challenges like this," said Miki Esposotio of Public Works and Utilities.
The city also asks everyone to give snow plows a break when it comes to traffic laws; they operate differently and don't always follow the same regulations as standard vehicles.
For all the latest information on snow removal and parking bans, click here: http://www.lincoln.ne.gov/city/pworks/engine/traffic/snow/index.htm