UPDATE: Salvation Army's "Secret Santa" pulls through again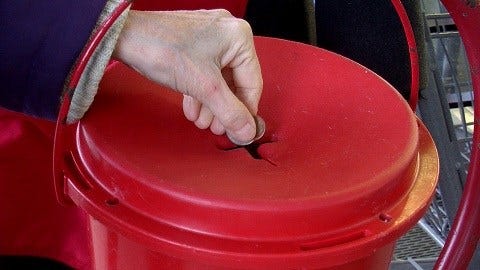 Posted By: Jenn Schanz
jschanz@klkntv.com
Monday night, Channel 8 Eyewitness News aired a story about a secret Good Samaritan who always gives ten 100-dollar bills into a Salvation Army red kettle.
Salvation Army staff was holding out hope the secret Santa would come through again this year, as they're running a bit behind in fundraising.
It turns out, the Good Samaritan must be a Channel 8 Viewer!
The Salvation Army says a little after the segment aired, ten 100-dollar bills showed up in a red kettle at the Shopko on Hwy 2 and 27th!
—————————————————————————
Tis the season of giving, and every year those Salvation Army red kettles serve as a reminder of the hundreds of families in need during the holidays.
Major Jamie Pennington of the Salvation Army in Lincoln says they're seeing more people that need help, and the biggest fundraising block is now.
"Usually about a third of our donations come in the week before Christmas, so this is a vital week for us," he says.
This year, the Lincoln Salvation Army wants to raise $581,000, which will help run facilities and provide food, clothing, and financial assistance to those in need.
So far, they've got around $375,000.
Major Pennington has high hopes the trend of heavy giving the week before Christmas will continue, but there's one donation he's especially anxious for.
"There's usually a Secret Santa out there, that every year for that last several years, the week before Christmas they will drop ten 100-dollar bills in one of the kettles," Pennington says.
You may be wondering how this Good Samaritan has gone under the radar for so many years.
Here's the trick; before they put the 100s into the kettle, they wrap them in a single dollar bill.
So far, there's been no $1,000 jackpot in a Lincoln kettle, but someone did make an anonymous $1,000 donation to the Salvation Army headquarters in Lincoln.
Major Pennington says whether it's the same person or another, paying it forward, he's got a message for all of Lincoln's givers.
"God bless you, and thank-you!"
There's still time to volunteer! You can register at www.ringbells.org