Update: Tornado caused damage in Superior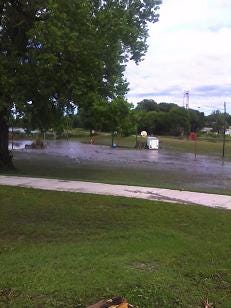 The National Weather Services verify an EF2 tornado caused damage in Superior Sunday night.
The tornado with estimated top wind speeds of 120 mph touched down shortly before 8 p.m. and did not cause any injuries. Nuckolls County Emergency Management Director Von Wehrman estimated that roughly 20 to 40 homes had moderate damage and said a couple might be uninhabitable.
He said there were many downed trees and the power system was damaged. Wehrman said that overall the town was very lucky that there were no injuries. National Weather Service officials said the tornado appeared to touch down in the middle of town.
Flooding continues across parts of Nebraska Monday. In Weeping Water, several homes are damaged and the city park has been extensively damaged. Highway 77 is closed south of Union because the Weeping Water Creek has flooded there. Most businesses in Weeping Water are okay because they were built above the flood plain.