Updated: Tenants forced out of apartment building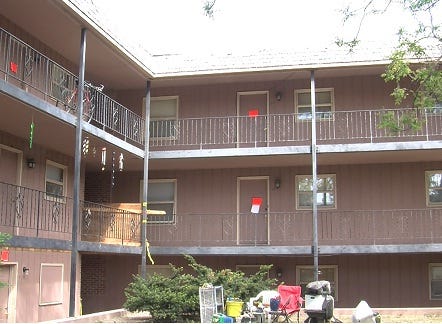 By: Melina Matthes
mmatthes@klkntv.com
The collapse of a walkway at a north Lincoln apartment complex has left more than 100 residents homeless.
The residents are furious and want their rent compensated, but building and safety says no one can move back in until the owner corrects the problem. Forced to grab their belongings and move out.. over 100 tenants at the French Quarter apartments near 46th and Orchard are left without shelter.
"How do you feel about not being able to live in your home? Kind of alienated I guess and forgotten…kicked to the curb…kick rocks…it's cold, I wouldn't do this to anybody," said tenant Terrance Keenan, Jr.
Construction crews were at the building Monday morning working on one of the walkways when it collapsed.
"After that occurred, we looked at the rest of the decking system and it was in the same kind of condition as the part that fell so we think at the very minimum we want to see some shoring done to the existing system before we feel comfortable having people come back to the building," said Chief Housing Inspector John Boies.
Building and Safety says it's up to the owner to fix it.
Engineers say some of the other walkways are sagging more than the one that fell and they are all interconnected so when one goes down, it could pull the other section with it. Because of that, the City has declared the structure unsafe. Tenants were told to get out immediately.
"Obviously it's a horrible situation for the tenant. We sympathize with them but at the same time we don't want anyone to be hurt," said Boies.
Tenants say they're staying at hotels and with friends or family. The company that manages the complex, MBA realty, has not returned our calls. Even city officials told us they've had a hard time getting a hold of them as well.