Updated: Police locate 1 of 2 runaways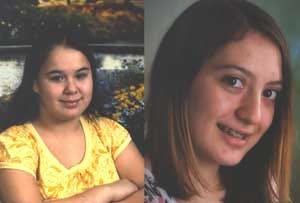 Lincoln Police Captain Martin Fehringer says one of the two girls who ran away was located early Friday morning.
The Lincoln Police Department is still seeking information that anyone may have regarding her cousin, Aaliyah I Perez.
14 year old Esperanza E Kramer and her 12 year old cousin Aaliyah I Perez went missing from 3000 N 3rd at approximately 9:00p.m. Wednesday night. The girls were seen Thursday morning at approximately 1:30a.m. in the area of the Kwik Shop located at N 1st and Cornhusker. We spoke with the mother of one of the girls and she told us that the girls ran away from home. Esperanza was found shortly before 5 a.m. on Friday. Aaliyah is still missing.
Aaliyah is described as: white/female
5ft 4inches in height
110lbs in weight
brown hair and brown eyes
(clothing unknown-in the photo she is
wearing a white,black & red top.
Anyone with any information about the girls whereabouts is asked to contact the Lincoln Police Department at 441-6000.