U.S. Senate candidates wrap up final debate in Lincoln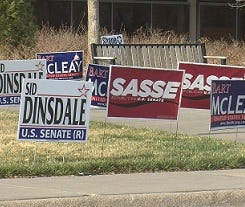 By: Bill Schammert
bschammert@klkntv.com
With just more than a month to go, Nebraska's republican U.S. Senate candidates are done debating. Bart McLeay, Shane Osborn, Sid Dinsdale and Ben Sasse all participated in Wednesday's final debate at UNL's College of Law.
They talked about a variety of topics, but there was no getting around each candidates distaste for the Affordable Care Act.
"People that are signing up for Obamacare have the glee of a groom at a shotgun wedding," Sasse said. "You don't compel people to buy a product as the U.S. Government."
Others admitted they want to repeal the A.C.A., but also said there were some things they like.
Former State Treasurer, Osborn, said he likes the fact young adults can stay on their plans longer.
"I want to repeal ObamaCare, but there are things in it that will be used in my plan," McLeay said. "Pre-existing conditions, portability of insurance, those are things that are needed."
Other hot topics included foreign policy, campaign financing and immigration.
"There is a clear distinction between me and the other candidates," Osborn said. "I am completely against amnesty and any pathway to citizenship for illegal immigrants."
He also talked about how much he admired the men and women he served with in the Navy who used their military service to gain citizenship.
McLeay and Dinsdale said the number one priority needs to be border security.
"Build the darn fence," Dinsdale said. "It's $2 million per mile, then we can find out what we need to do with our immigration policy, but until you do that, it's just too leaky."
The primary election will be May 13th.