USS Nebraska crew members visit Everett Elementary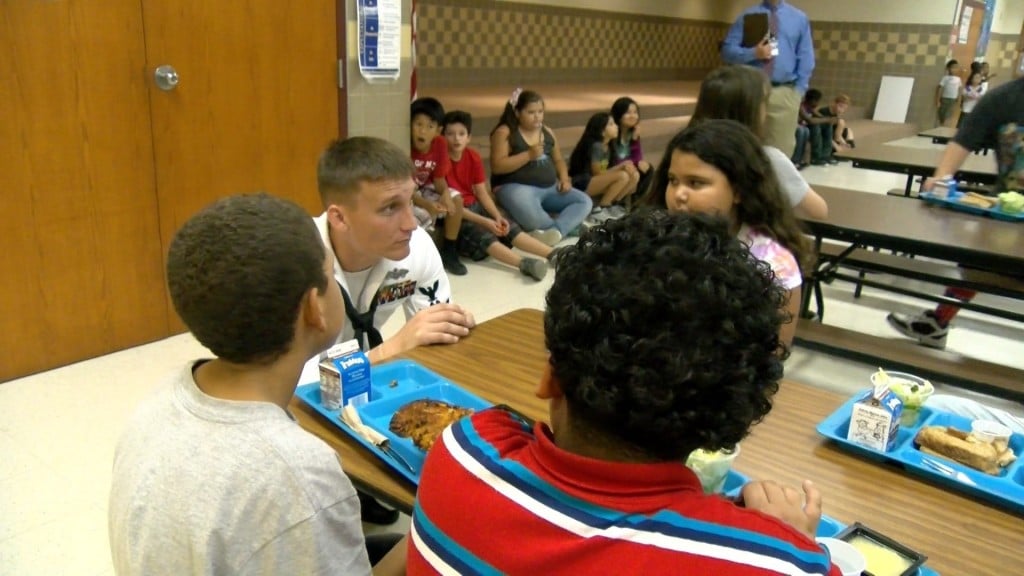 Posted By: Bayley Bischof Channel 8 Eyewitness News
A typical day for naval crew members aboard USS Nebraska involves being a few hundred feet under water.
But on Friday, they spent their time on dry land with Everett Elementary School students.
It's part of a tour of Nebraska landmarks.
"We are here part of a namesake visit," Lt. Josh Daniels, USS Nebraska crew member. "We're from USS Nebraska so there's a group called the Big Red Sub club it brings crew members to the state of Nebraska so we can see the community."
So they toured the school, ate lunch with students and sat down with fourth and fifth graders to answer questions about living hundreds of feet under water, and what the navy really does.
"We defend peace," Daniels said. "So our mission is to go out into the ocean and hide and let the enemies know we're out there if they ever try to mess with us that we will respond and they won't know where it's coming from."
The goal was to spark the student's interest in the Navy, as it's not a branch of the military often talked about in Nebraska.
"I hope they see the navy as a great organization that it is and I wouldn't be surprised if some of them want to come and join in the great ship USS Nebraska," Daniels said.
The sailors left an impression on the students, as they got to meet someone and learn about defending the U.S.
"It's like a once in a lifetime because you don't really get to see people who actually fight for us," an Everett fifth grader said.
The crew members will have also toured the State Capitol Building and other Nebraska landmarks. They'll also be part of the 150th anniversary celebration Friday evening.