Veterans Advisory Group presents two major donations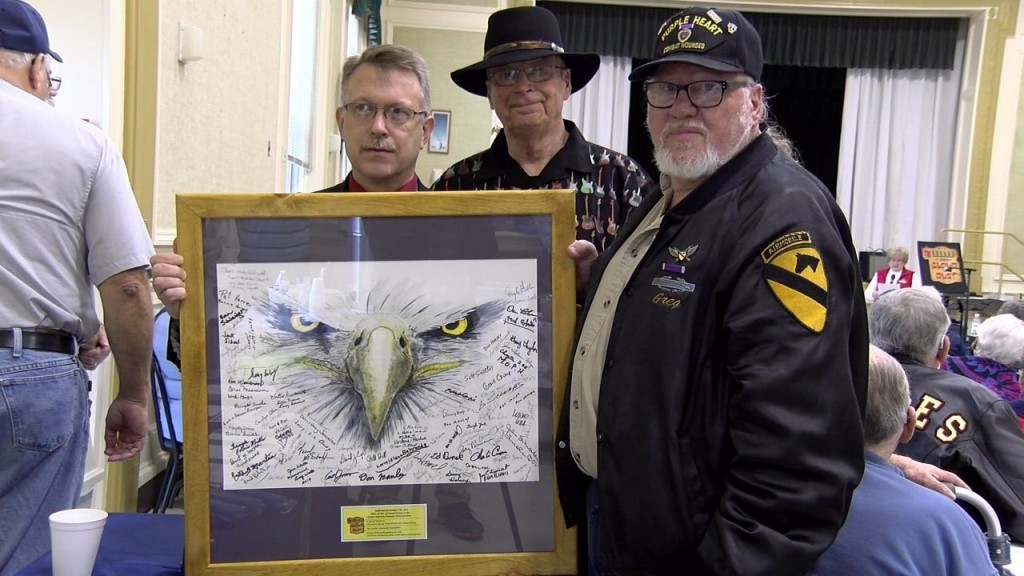 Earlier today the Veterans Advisory Group for the Lincoln Veterans Affairs Clinic presented two major donations at the Veteran Affairs Coffeehouse, which is held in the Veterans Advisory Clinic auditorium.
The donations were a new audio sound system and a painting of an American Eagle that was signed by all those who participated in donating money to the cause.
Donations were coordinated by the Lincoln VA Group and the project was funded by various veterans groups and community members who wanted to give back to the VA Clinic.
Due to budget constraints, VA leadership was in need of funding in order to replace the rapidly aging audio system that had served the VA auditorium for many years.
After hearing about the budget shortages, VA Group member Dave Rusk decided to take matters into his own hands.
"Dave called me up and said we want to try and figure out a way to try and raise some money. He thought that I could do one of my paintings and then let the people who donated sign it and see if the VA will let us hang it up in here. I've been doing artwork for many many years so I felt privileged to be able to offer my talents and my artwork for a project like this," said Greg Holloway, the artist who painted the American Eagle portrait.
For the past 12 months Rusk has been collecting donations from veterans as well as other community members who wanted to help out in any way possible.
Rusk and the Lincoln VA Group was able to raise close to $10,000.
These donations were made possible by the VA Clinic's voluntary service program, which is the only VA program that accepts donations of time or money.
The VA Group hosts monthly Coffeehouse events that are held on the third Friday of every month from 11am to 1pm as an opportunity to bring in veterans to learn more about the health care benefits and services offered to them.
Additionally, it is also a community event to celebrate with music and dancing.
"Our veterans… They don't just consider this as a place to go and get health care, they consider it as a place to come and have camaraderie with their fellow veterans… To do things like these community type events, and really get involved in getting back to the VA and their fellow veterans, which is so important," said Will Ackerman, Director of communications for Nebraska with the U.S. Department of Veteran Affairs.