Veteran flies in B-17 Bomber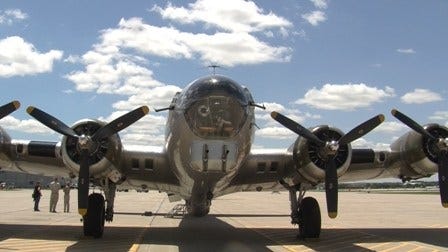 By: Hannah Paczkowski
hpaczkowski@klkntv.com
The "Flying Fortress" is a B-17 Bomber Airplane, today Dick Miller, a former military pilot took a tour of the plane he once flew in WWII. At 94-years-old, Miller got a chance to relive his days in the skies.
"The Germans had some mighty good guns and I don't think I brought a plane home without a few holes in it," he said.
The "Flying Fortress" is available for tours on the ground and the sky this weekend.
"You look around and you realized what the military guys at the time had to deal with what they were putting up with," co-pilot Lorraine Morris said.
Miller said the plane flies a little lower now, than he remembers.
"I wasn't used to flying it at the altitude he flies at because we had to get up pretty high to stay above the cannons in Germany," he said.
This was a trip down memory lane that Miller said was nostalgic, good and bad, but in all was a worthwhile experience.
"It was nice to look it over. Just to crawl in the old bird again," Miller said.
Tours of the bomber will be this weekend Friday through Sunday at Silverhawk aviation. For more information go to http://tour.b17.org/lincoln/