Veterans and community gather to celebrate service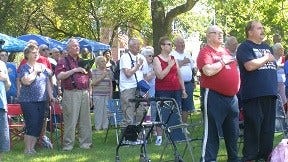 Posted By: Sarah Fili
Its not a special holiday, but it's a day to say thank you and welcome home to Nebraska veterans. Veterans and their families were invited to the VA campus for a special event Saturday to remember and honor their service.
A special event at the Lincoln VA campus gave retired service men and women a chance to get together and share stories.
"This is a coming home event for all veterans, especially we Vietnam veterans who really weren't welcomed home when we came home compared to other veterans," Larry Sitzman, a veteran and co-chair of the event, said.
The veterans' freedom music festival had live music, ceremonies recognizing vets and a place for kids and families to relax and connect. The event also offered vets a way to learn about what the VA can do for them.
"The VA really wants to entice young veterans and all veterans to come out to the VA and see what the VA a has to offer and see their services," Seth Chambers, a veteran and co-chair of the event, said.
The event also aimed to help those vets less fortunate. A 9′ by 11′ canned food sculpture in the shape of a bald eagle stood in the auditorium, all to help those in need.
"All of those cans of food are going to the veterans pantry because there's a lot of needy veterans in this community," Sitzman said.
Whether young or old the VA wants to reach out to all veterans who may be struggling.
"Those ones that maybe don't know they can come to the VA. Those ones that are having PTSD or they don't know what's really wrong with them. Those are the ones we're trying to reach," chambers said.
The festival was open to the community as a way to say thank you, something these veterans don't take lightly.
"Very grateful, at times this morning during the ceremonies you have a hard time controlling your tears," Sitzman said.
The vet's say this day is a reminder that support is out there and their service is greatly appreciated.
"Now you get people coming up to you saying thank you for your service. They didn't used to do that," Bob Wallman, a Korean veteran, said.
Event organizers say if you missed the event this year but still want to support, they encourage you to come out next year and bring a veteran.