Veteran's Day in Lincoln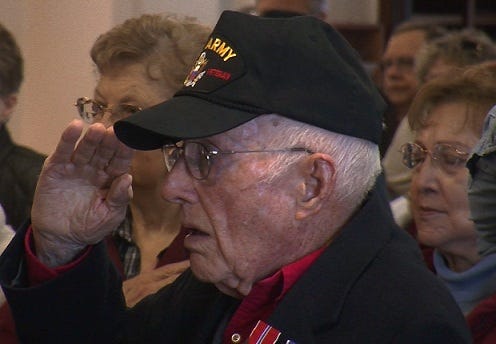 By: Cole Miller
cmiller@klkntv.com
It's Veteran's Day, and all across the country, our heroes are being honored. Here in Lincoln, local servicemen and women were recognized at Antelope Park.
"This nation will remain the land of the free only so long as it is the home of the brave." Those are the words of Elmer Davis, a well-known news reporter from the early 20th century. It's on Veteran's Day that we remember those words, and the men and women who defend our country. They each have a story of their own, including WWII veteran Steve Grosserode, who enlisted in the Army after the attack on Peal Harbor…

"We were sent to Okinawa and we were on the invasion of Okinawa, which was April 1st of 1945," Grosserode said.
Injured by an enemy mortar, Grosserode received the Purple Heart for his service. But he knows it could have been much worse, saying he could've died on that island. Now, more than 60 years later, he's extending his gratitude.
"I want to thank all of the men and women who served, all those who are serving and it's important that we do have a strong military to keep our country free," Grosserode said.
Alongside Grosserode, other veterans were honored at Antelope Park for their unmatched service.

"I think it's vital that we remember what has happened, what price we pay for the freedom we get," Jess Smith, with the Veteran's Memorial Gardens said.
To all of these brave men and women, we say, "Thank you." And to Grosserode, we say happy birthday.
"Today happens to be my 91st birthday, November 11th is my birthday," Grosserode said.
The federal observance of Veteran's Day will be tomorrow.