Victims Of Norris School Bus Crash Speak Out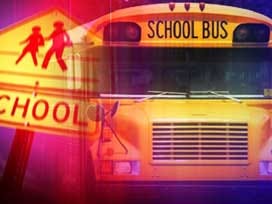 After the accident, some of the kids were taken to BryanLGH West.
Now, we hear from one of the students on the bus and his mother.
You can only imagine as a parent getting that call that your child was involved in an accident.
Fortunately, none of the kids were critically injured and we're told everyone did a great job of handling a very serious situation.
An accident that leaves a bus filled with children on its side.
"It just happened so fast. We're just driving down and all the sudden we're on our side. We just got everyone out of the bus and waited there until the ambulance and all that came," Student on the bus Austin German said.
Not the way this 7th grader was expecting to start his school week.
The pick-up truck, bus accident happened a little after 8 o'clock Monday morning.
Sending nearly 40 people to Lincoln hospitals, both drivers sent to the ICU at BryanLGH West.
A scary thing to hear as a parent of 2 students involved in a school bus accident…
"I think I froze i really didn't respond I just listened. I just couldn't believe my kids were on the bus that wrecked. But then when I hung up I started shaking a little bit," Parent Michelle German said.
But after news hit that none of the children on the bus were seriously injured.
And all of them were treated as outpatients, the focus shifted to the bravery the kids showed during the process.
"I just got out and making sure everyone got out in case it blew up or whatever," Austin said.
A legitimate fear for a seventh grader that was watching a burning pick-up truck against the vehicle holding his friends, classmates and sister.
But even with everything going on at the scene, and back at the hospitals.
The medical director at BryanLGH West's emergency services says the kids were brave, cool-headed and under control.
"The children did extremely well. Even the kids with lacerations and one with a broken arm they were at times joking with the staff asking if we take care of bus accidents very often," Medical Director Dr. Ed Mlinek said.
Everything is expected to be back to normal at Norris Tuesday.
Classes were held Monday and they will be Tuesday as well, and all the school busses will be back on normal schedule.