Virginia shooting suspect has been identified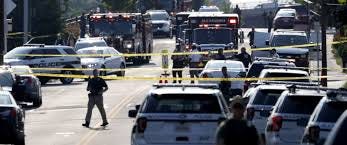 By: Channel 8 Eyewitness Newsroom
8@klkntv.com
The suspected shooter in today's incident in Virginia is 66-year-old James T. Hodgkinson of Belleville, Illinois, according to multiple law enforcement sources.
According to Hodgkinson's wife, who spoke to ABC News, Hodgkinson has been living in Alexandria, Virginia, for the past two months.
Around 7 a.m. ET at least four people, including Rep. Steve Scalise, R-La., were injured when a shooter opened fire at a baseball field in Alexandria's Del Ray neighborhood. Republican lawmakers were practicing for Thursday's annual charity congressional baseball game.
A law enforcement source told ABC News that the suspect was injured and transported to George Washington University Hospital. Authorities later confirmed at a press conference that the suspect is in custody.
Police said the suspect's motive is unknown at this point. Police described the scene as "stable."
Authorities confirmed that Capitol Police officers were on scene when the shooting happened and exchanged gunfire with the shooter. Victims have been transported to local hospitals, police said.
The FBI has taken control of the crime scene, which is located some 7 miles away from the White House in Washington, D.C.
Scalise is undergoing surgery and his injury is not life-threatening, his office said in a statement.
"Prior to entering surgery, the Whip was in good spirits and spoke to his wife by phone," the statement said. "He is grateful for the brave actions of U.S. Capitol Police, first responders, and colleagues. We ask that you keep the Whip and others harmed in this incident in your thoughts and prayers."
For more information go to www.abcnews.go.com.