Volleyball Sweeps Colorado in Ogallala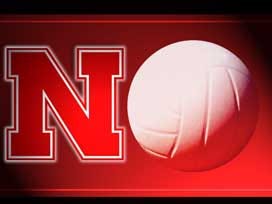 Posted By: Sports
sports@klkntv.com
Story Courtesy: Nebraska Athletics
OGALLALA, Neb. – The Nebraska volleyball team swept Colorado 25-16, 25-20, 25-21 in its only spring match on Saturday in front of a sold-out crowd of 1,321 at Prairie View School.
The defending national champion Huskers got 12 kills and six digs from Kadie Rolfzen, while Briana Holman had nine kills and two blocks and Amber Rolfzen had seven kills and nine blocks. Those two Husker middle blockers combined to hit .667 as the Huskers hit .319 as a team to .165 for Colorado.
Olivia Boender had seven kills and Mikaela Foecke had six. Kelly Hunter added 37 assists, four kills and five blocks, and Justine Wong-Orantes had eight of the Huskers' 32 digs.
Nebraska had an 11-7 blocks advantage and served four aces.
Annika Albrecht served a four-point run in the first set to put the Huskers up 11-7 after a back-and-forth start. Ahead 15-14, Nebraska went on a 5-0 run to take control with two kills and a block by Boender. The Huskers finished on a 10-2 run to win 25-16. The Huskers were sharp offensively in their first set since winning the national title. Nebraska had just one attack error and hit .520.
NU gained separation in set two with a 4-0 run to go up 14-9. A pair of Kadie Rolfzen kills pushed the lead to 19-13. Colorado pulled within 21-19, but kills by Kadie Rolfzen and Boender made it 23-19. Holman and Kadie Rolfzen closed out the set with kills for a 25-20 win.
Nebraska trailed 9-5 in the third set before a 4-0 run tied it. Amber Rolfzen had two blocks and a kill in the stretch. She totaled four kills in the set to lead the Huskers to the 25-21 win.