Volunteers help clean up Lincoln Children's Zoo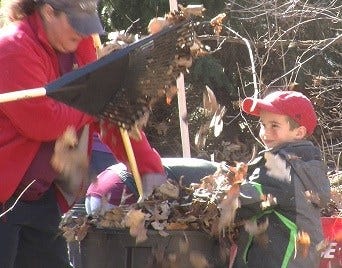 Posted By: Camila Orti
For around 200 people, the Capital City's first taste of spring weather meant grabbing a rake and getting to work.
In less than four weeks, the Lincoln Children's Zoo will once again be open to the public, but zoo officials say it wouldn't be possible without the help of volunteers.
Saturday marked the first of this year's "spring cleaning" days at the zoo. Community members were invited inside with their tools and gardening gloves to help staff members clean up the walkways and flower beds.
"We've probably emptied about 1,000 barrels today," General Manager Evan Killeen said.
Killeen added the event has been an annual tradition for decades.
"We get people that come every year and we get people that bring their kids and they remember coming as kids," Killeen said.
Without those people, management says getting the zoo's 7.5 acres ready for the season would be nearly impossible.
"I'm having fun and I also spotted two different kinds of fungus when we were cleaning out one particular area," 7-year-old volunteer Clark Gardner said.
For many families like the Gardner's, the event provided an excuse to enjoy the 50-degree weather.
"Getting outside and showing the kids volunteering for the community is one of the most important things you can do," Scott Gardner of Lincoln said.
The second spring cleaning day is scheduled for March 21 from 8 a.m. to noon. The zoo officially opens for business on April 1.
If you're interested in volunteering, zoo officials say you simply need to show up with a rake and some gardening gloves.