Volunteers lend a helping hand at Lincoln Marathon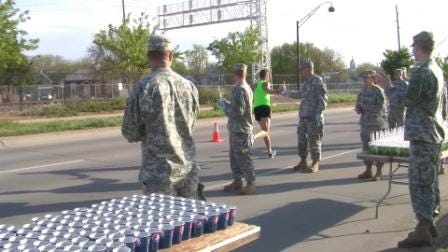 By: Lauren Fabrizi
lfabrizi@klkntv.com
The 37th annual Lincoln Marathon wouldn't be possible without a number of volunteers.
The Nebraska National Guard manned one of the water stations at mile marker 13. That marked the halfway point for runners running the full marathon.
Guardsmen and women were there providing water, Gatorade and plenty of cheers for all who ran by.
"This is my favorite drill of the year because it's very inspirational to see all the runners, and it's nice to be part of the support team," Staff Sgt. Mandy Hatcher said.
"It's just really rewarding to give back to that community," Staff Sgt. Nicholas Juett added. "That's what the NE Guard is really all about, is the community service we provide here."
There were 11 water stations along the way. Marathon officials said about 2,000 volunteers were on hand helping put together every single piece of the race.