Wahoo choir to sing with Foreigner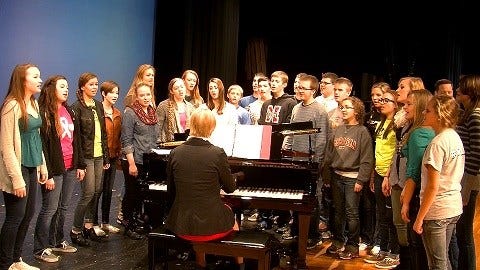 Posted By: Jenn Schanz
jschanz@klkntv.com
It's a unique musical collaboration; multi–platinum band Foreigner, and Wahoo High School's Show Choir.
They're taking the stage together at the Lied Center Nov. 14th.
It all started with a radio contest; along with other local schools, the choir of just 25 sent in an audition tape to sing with the iconic band, and to their surprise, they won!
"I haven't really grasped the concept yet that there's going to be like 8,000 people there," says Freshman singer Aaron Redding.
He sings in the choir with his twin brother Isaac and older brother Clayton.
"I love singing with my little brothers because whenever I do something wrong, they're not afraid to tell me 'Hey Clay, that's not right' you know," says Clayton Redding.
The Clayton boys are too young to remember Foreigner hits when they first topped the charts, but they still appreciate the classics.
"Jukebox Hero, I like that one a lot," says Isaac.
"Cold As Ice," is one of Aaron's favorites.
For their teacher, Julie Baker–Anderson, it's a different story.
"I'm living vicariously through them. I mean, I can't believe they're going to be standing next to these gentlemen you know, that I kind of idolized when I was in high school and who I listened to," says Baker-Anderson.
And for this small choir, this opportunity means more than just a night of fame; Foreigner is donating $500 to the school's music program.
With just a few days till showtime, the kids plan to keep rehearsing.
The students will be selling Foreigner CDs at the Lied Center the night of the show for $20. All proceeds go to the Grammy Foundation, which is dedicated to funding the arts in schools.
For details about the concert, click here: http://www.liedcenter.org/event/foreigner