"Walk to End Alzheimer's" close to home for a Lincoln couple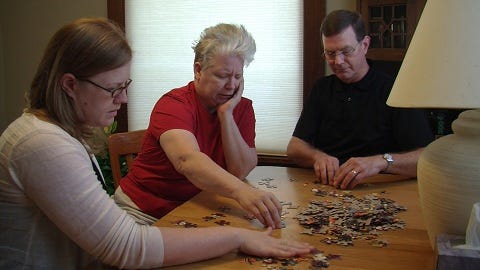 By: Jenn Schanz
jschanz@klkntv.com
LuAnne Anderson has been playing piano since she was three.
Her husband Brad says she's always loved music and dancing.
They used to dance four or five times a week.
But that's all changed since LuAnne's diagnosis of Dementia at age 55 back in 2010.
"You just can't do the things you used to, it's just so much effort to get out and do something and it's very demanding for LuAnne, it wears her out. So we don't get out as much as we used to," says Brad.
LuAnne has Semantic Dementia, which affects her ability to recognize faces and words the way she used to.
"She still doesn't remember what a banana is. She loves them, but she can't remember what it's called. [She'll say] those yellow things," Brad says.
Dementia has also changed LuAnne's behavior.
Now 58, the soon-to-be-grandmother struggles with social interaction, and has good and bad days.
Brad and LuAnne made the decision early on to be open about her diagnosis, and get involved with the community.
They've participated in the Alzheimer's Association "Walk to End Alzheimer's" for a few years, and plan to do it again.
With an expected 1,000 participants, Brad says getting the word out is the most important part of the event.
"Every 68 seconds some else is diagnosed in the United States with Alzheimer's. So when the watch clicks and you see that second hand go past 68 seconds someone else has just been diagnosed."
The walk is at Holmes Lake on Sunday. Festivities start at noon, the walk begins at 1 p.m.
For details on the event, visit the event website: http://act.alz.org/site/TR?fr_id=3534&pg=entry