Walmart helps feed local families in need for the holidays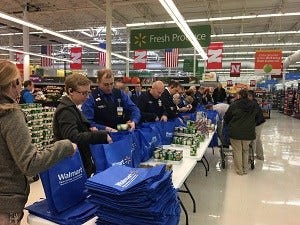 Posted by: Marlenia Thornton
mthornton@klkntv.com
Walmart is lending a hand this holiday season to help combat hunger.
The store donated $20,000 of food to the Food Bank of Lincoln Thursday.
Walmart said it enjoy giving back especially this time of year.
"This is what we stand for. It's one of our beliefs. So, it's service to our customers and this is just another way of servicing our customers," Walmart Representative Bill Skoulfis said.
Lt. Governor Mike Foley joined store employees assembled 200 bags together in a line.
Each one was stuffed with all the holiday sides and a gift card for a turkey or ham.
Foley said Walmart's gift will make a big difference for the food bank.
"This is a big infusion of groceries into the food bank systems. It's going to help a lot of families during this holiday families. We're very grateful for the corporate support the food bank receives," Lt. Governor Mike Foley said.
After the bags were filled, they were placed in these carts and then loaded in the food bank's truck.
The food will help feed thousands of local families this month.
The non–profit said poverty has increased in Lancaster County, which means there's more demand.
Its executive director says these partnerships are appreciated.
"We're doing our best to keep up and it takes a lot of hands and shoulders on the wheel of hunger to make this work," Food Bank of Lincoln Executive Director Scott Young said.
The food bank plans to give out the meals soon.
If you need help, visit the Food Bank of Lincoln's website or call at 402-466-8170.