Wayne tornado levels homes, businesses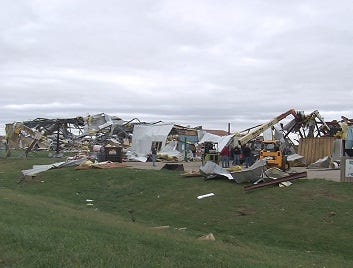 Posted By: Camila Orti
corti@klkntv.com
Live tornado footage courtesy of Rob Hurkes and KDR Media.
The people of Wayne, Neb. are picking up the pieces after last night's massive tornado damaged dozens of houses and businesses in the area.
The tornado ripped through the southeastern part of Wayne around 6 p.m. Friday. A spokesperson for the Nebraska Emergency Management Agency says the damage is consistent with at least an EF3 rating, meaning winds reached between 136-165 mph.
Traci Krusemark and her family are one of about ten that completely lost their home.
"I had to make sure that I got out with my kids and my husband, that was it," Krusemark said.
She says she feels lucky to be alive; her family was in the basement of the house when the tornado swept over them, taking everything, including three barns on their property, with it. The Krusemarks escaped through a basement window without any injuries.
"You never think it's going to be you and it was us this time and I'm just thankful that my family is safe," Krusemark said.
The twister first touched down six miles south of Wayne, hitting the industrial business district on the east side of town the hardest. Dozens of companies in that area were completely leveled.
Mayor Ken Chamberlain says the town faces millions of dollars in damage.
"This afternoon I've been visiting with some of the families and some of the business owners that've just lost everything and it's a pretty heavy load," Chamberlain said.
Wayne's airport was also heavily damaged.
Chamberlain says hundreds of volunteers and emergency personnel have been working since early this morning to clear the damage, a process that might take several weeks.
"Everyone will come back stronger than they were yesterday morning, that's just the way we are," Chamberlain said.
The National Weather Service was in Wayne Friday assessing the damage.