Waze makes its way to Nebraska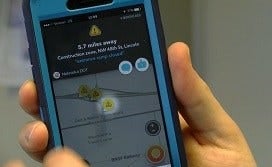 Posted by: Marlenia Thornton
mthornton@klkntv.com
Listen up, Drivers!
There's a new app making rounds in the Cornhusker state.
It's called Waze and it's teaming up with the Nebraska Department of Roads.
The free app shows you real–time traffic and road info like accidents and speed traps all thanks to user input.
Waze gives alternate routes as well.
It can even help you avoid construction delays.
"Construction can slow you down. To find a quicker way or not to be stopped for about half an hour depending on what happens would be great," Lincoln Driver Dan Peterson said.
That's part of the department of road's plan.
So, it's integrating the data from Nebraska 511 into Waze.
Now, you'll be able to get state road closures, weather conditions and other user reported warnings in both places.
This comes after Waze began partnering with states like Iowa to provide the service.
"They asked us and we asked them. It's just a great time for us to share our data together," Nebraska Department of Roads ITS Engineer Austin Yates said.
Mobile devices have revolutionized the way we travel.
The department thinks this new tool will get drivers around faster and safer.
"My hope is that it gets people to where they're going more safely and efficiently and our primary concern here at the department is safety," Yates said.
"Moving here a year ago, I would've been lost without my Smart phone. I try to think about what it just a map or a regular telephone would. I'd be lost," Peterson said.
There are more than about 9,000 Waze users in Nebraska.
You can just download it from your app store.