UPDATE: Wesleyan student dies in car vs. pedestrian accident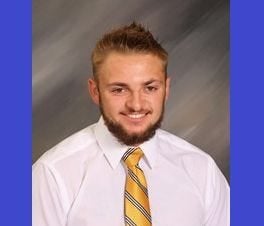 By: Kayla Bremer
kbremer@klkntv.com
The search continues for one of the vehicles that hit a Nebraska Wesleyan football player while he was walking on Interstate 80 early Sunday morning.
The Lancaster County Chief Deputy says 22-year-old Maury Lorence was on a party bus rented by another Wesleyan student the night of the accident. Deputies say the bus had an estimated 44 people on board, including junior and senior Wesleyan football players as well as their significant others. Investigators say the group had their own alcohol on the bus and stopped at two rural Lancaster County bars. They say the bus then stopped at a truck stop near NW 48th and West O St. for a bathroom break.
Lorence did not get back on the bus and may have been mistakenly left at the truck stop, Chief Deputy Jeff Bliemeister said.
Deputies believe Lorence was trying to make his way back to campus when he was hit by a vehicle on Interstate 80.
The crash happened in the eastbound lanes just after midnight near the NW 48th St. exit. Deputies think Lorence was initially hit by a first vehicle, possibly a semi trailer according to witnesses, then was hit twice more.
"We have identified those vehicles and have contacted those drivers," Sheriff Terry Wagner said. "We are currently looking for what witnesses described as a dark colored semi tractor trailer with an enclosed box and polished aluminum rear doors."
In Nebraska, party buses operate under the limousine statutes which allows passengers to drink on the bus.
"We are concerned and disappointed about what we have learned," Nebraska Wesleyan President Fred Ohles said in a statement released Tuesday upon learning of the party bus. "As the investigation continues, we will apply Nebraska Wesleyan's standards of conduct as we would in any case. Of course, we will continue to cooperate with the Lancaster County Sheriff's Office."
Lorence's teammates, Tyler Francis and Connor Davis, say they're still trying to comprehend what happened.
"Every person on this team is a brother and everyone's shocked," Francis said. "Talked to multiple people and it's just, how did this happen?"
They say Lorence, who was from Doniphan, was a quiet guy but was a leader on the team. Off the field, he loved to spend time with his family, go hunting and listen to country music.
Davis says Maury was a great teammate and friend, and he'll wear a number nine on his helmet the rest of the season to honor and remember his roommate.
"I'm going to be playing for him," Davis said. "I'm going to be living life for him."
Prairie Wolves Head Coach Brian Keller says the team has met with grief counselors and plans to play in Saturday's football game at Dordt College.
The football team and education department plan to hold a vigil for Lorence at 8 p.m. Tuesday on Taylor Commons.
The accident remains under investigation and anyone with any information is encouraged to contact the sheriff's office at 402-441-6500.
——————————————————————————————————————————————————————————–
Posted By: Camila Orti
corti@klkntv.com
The Lancaster County Sheriff's Office is investigating a fatal accident that killed a Nebraska Wesleyan football player.
Deputies say it happened just after midnight Sunday morning on I-80 near mile marker 395 in the eastbound lanes. That's near the NW 48th Street exit. They say 22-year-old Maury Lorence of Doniphan was walking on the interstate and was struck by several vehicles, one of which deputies are still looking for. Officials say the driver left the scene before law enforcement arrived.
"We have interviewed the drivers of two vehicles that struck Lorence after he was laying in the interstate but we have still not located or identified the initial vehicle that struck him," Sheriff Terry Wagner said.
Deputies believe Lorence was at Shoemaker's Truck Stop on West O St. when he started walking on I-80 back into Lincoln. Sheriff Wagner says prior to the crash, they received reports of a man stumbling on the interstate then minutes later, a report of an accident.
"There's a possibility that the person that struck him may not have realized it depending upon the kind of vehicle that struck him," Wagner said.
Authorities are hoping debris left at the scene will help determine what kind of vehicle initially hit him.
Teammates and the Wesleyan University community are grieving the loss.
"I'm honestly kinda shocked, it's still kinda hitting me," Lorence's roommate and fellow teammate, Connor Davis, said.
It was tough news for the Prairie Wolves football team to hear. Teammates say the senior tight end was a big part of the team, and led by example.
"He took a leadership role on the team, whenever he spoke everyone listened, because it meant something," Davis said.
Lorence was the guy hitting the weight room at 6 a.m., while everyone else was still sleeping.
"No one else was in there, he'd be there," Davis said.
Lorence was a good student, too. He was named a scholar athlete two years in a row, and was studying to be an elementary school teacher.
"[He was a] smart guy, worked hard, driven," teammate Tyler Francis said. "He really enjoyed what he did, I always remember that, he would always say 'I love what I'm doing right now.'"
Francis and Davis say their team is more like a family. A family that now knows this season is about more than what happens on the field.
"I'm going to have that number nine on the back of my helmet, and I'm going to be playing for him, I'm gonna be living life for him," Davis said.
Nebraska Wesleyan University issued the following statement Sunday afternoon:
"We are saddened by the loss of our student Maury Lorence. Our continued thoughts and prayers are with his family, his brother who is a student here at NWU, his friends and the entire Nebraska Wesleyan University community. Counselors are meeting today with Maury's teammates and classmates, and we'll continue to provide that service to our campus community as we deal with this difficult loss."
The Sheriff's Office did not indicate why Lorence was walking on the interstate. They say they're interested in speaking with anybody that has additional information or may have seen Lorence before the accident. You can contact the Lancaster County Sheriff's Office at 402-441-6500.