Wheelchair tennis players swinging through adversity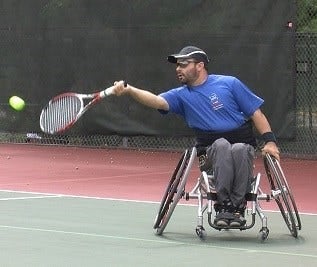 Posted By: Camila Orti
There's no question tennis is a sport that takes agility, skill and mental toughness. So what does it take to do it in a wheelchair?
19 players are in Lincoln this weekend for the annual Capital City Wheelchair Classic at Woods Tennis Center.
Take tennis, add some wheels and extra bounce, and you've got the sport that draws athletes from around the country to the Capital City every summer.
15-year-old Casey Ratzlaff of Wichita, Kan. has only been playing for about two years.
"I was born with spina bifida so I've been like this since I was born," Casey said. "It was unheard of for me that there were sports for people like me."
Since then, the high school sophomore has gotten pretty good, good enough to win his division in the U.S. Open this year and play in the Junior World Team Cup.
"It gives him an ability to go compete in something at a high level like he has friends do at school," Casey's dad Craig Ratzlaff said.
Unlike able-bodied people, wheelchair tennis players can't move laterally, meaning they have to spin through every shot.
"So imagine almost if you played tennis on rollerblades, but you never could pick up your leg," professional player Nick Taylor said.
Taylor has certainly gotten the hang of it. The Kansas native has won three gold medals playing in his division at the Paralympics.
"I can't raise my arms up, I can't open my hands," he said.
So how does he play tennis so well? It's a question even he doesn't know the answer to.
"I'm kind of like a giant physics lesson in the way I play tennis and use my wheelchair," Taylor said.
From Texas to here in Lincoln, wheelchair tennis players agree it's all about swinging through adversity.
"Don't be afraid to go explore the things you can do because you'll surprise yourself with what you can do," Casey said.
The tournament runs through Sunday, and has been a Lincoln tradition for about 30 years.