Wind fans grass fire on West Van Dorn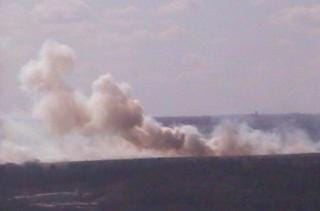 A huge grass fire in and around Pioneer's Park had firefighters battling more than just the blaze Monday afternoon.
Chief Phil Nalley of Southwest Fire & Rescue says, "That grass is probably four or five feet high and you get that wind beneath it, it just goes 'Poof!'"
It took several hours, but firefighters did eventually contain the biggest grass fire Nalley says he's seen in nearly seven years. The blaze ignited near Southwest 56th and West Van Dorn around 3:30p.m. It quickly spread across 160 acres inside and out of the park. Nalley says, "I think we went as far south as the creek, it was hot enough it could have jumped the creek if it wanted to."
Nalley called in extra tankers from across the southwest. "We rely on our tankers completely. I put out an all call to everybody in the south. I even got rigs from Bennett, Hallam, Firth and Hickman. I pulled them in from where I could."
Together, 50 to 60 firefighters battled the blaze, that in some areas reached twenty feet high. Lincoln Fire & Rescue was stationed at the nature center, protecting the park as best they could. Nalley says even all the help didn't make extinguishing the flames an easy task. "Little treacherous down in there. It's all country and we're getting fire trucks stuck in the mud and we're trying to get them out before they burn up."
Southwest 56th and Van Dorn did open for traffic. Investigators aren't sure what caused the fire and say they may never know.