Winter weather strikes again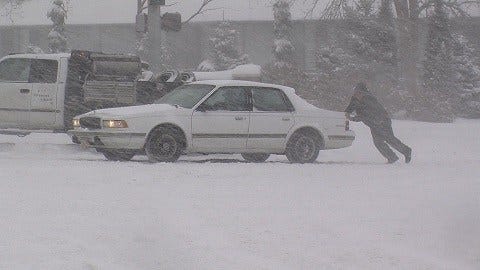 Posted By: Megan Conway
February started with a bang. Thick, heavy snow blanketed the capital city on Sunday. Then a second dose came on Wednesday, bringing another six and a half inches.
"Be a good citizen, try to get out there get your sidewalks cleaned off," Roger Figard, a city engineer, said.
Two semis got stuck trying to get up the hill at 70th and South streets. As cars slowed at the intersection, they had issues starting back up again. With the snow blowing, visibility was also an issue for people.
Earlier in the day, drivers had advice for others.
"Well they're pretty horrible. If you don't have a tank you better not go. A lot of sliding around,"Doug Marlof of Lincoln said.
"Yeah, I would just stay in and be cautious of the roads when you're out, try not to drive like a maniac," Dylan Renner of Lincoln said.
A residential parking ban goes into effect at 8 o'clock Thursday morning.
"For the even side of the street, so we'd ask everyone to move their cars, get them out of the way to the extent that they can and we'll start into the residential's again tomorrow and try to push that snow out of the way," Figard said.
Lincoln is still in a parking ban on all emergency and bus routes. Lincoln Police Department has told us there has been 39 accidents since midnight last night, which is not as many as with the snow storm on Sunday. Again, a residential parking ban begins at 8 a. m. tomorrow. The city asks please do not park on the even numbered side of the street.