Woman, 77, celebrates birthday spinning past the younger competition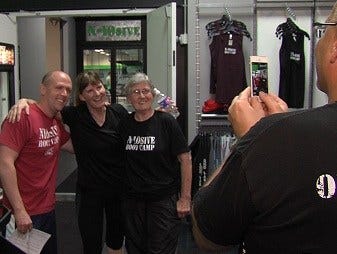 By: Bill Schammert
bschammert@klkntv.com
If we make it to 77 years old, many of us probably imagine a relaxing life of taking it easy and leaving the hard work in the past. That's not the case for Pat Leitschuck. You can find her six days a week burning calories at Good Life Fitness.
"Actually it could be seven," she said. "I do two classes on Sunday. I cycle for an hour and then do yoga."
For two years now, it's that kind of attitude that keeps her coming into Good Life Fitness day after day. Whether it's the spin classes, the yoga mat or the dumbbells, she says it's all about the camaraderie.
"I enjoy the friends I've made and just plain working out," she said. "They've become my family."
So it's no wonder her daughter, son-in-law and Good Life family wanted to throw her a surprise birthday party Tuesday night to celebrate 77 years young.
"I thought something was fishy at about 5:30," she laughed, referring to her daughter's ability to keep a secret.
For Good Life Fitness owner Steve Auxier, she's simply an inspiration to gym goers and staff alike.
"If she can do it, it sets a great example for everyone else," Auxier said. "Amazing, truly amazing."
Nearly eight decades into life, she has one simple piece of advice for all the youngsters out there.
"Stay away from the drinking and the smoking," she said. "You'll get a lot further in life if you don't do that stuff."
Sound advice.
And as she took a bite of a birthday cupcake, everyone knew, sometimes taking advantage of the sweet things in life will do the soul some good, too.