Woman who gave away Florida Georgia Line concert tickets, is surprised with more tickets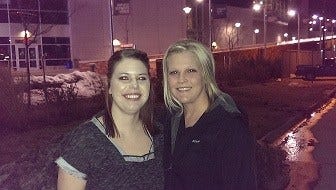 Posted By: Reid Kilmer
rkilmer@klkntv.com
It was one surprise after another.
Once the band, Florida Georgia Line, found out Rachel Halbur gave tickets and meet and greet passes away, they made sure she received two more tickets to the Friday night show.
Halbur said, "I wasn't doing this to get anything out of it or get any rewards I was pretty surprised they would give me tickets."
Halbur won the tickets on Froggy 98 through donating to St. Jude's Radiothon, but she wanted to brighten someone else's day. With some help from a friend they found Matt through the Pediatric Cancer Action Network and gave him the tickets.
But Halbur found out this afternoon the band her what she did and wanted her to come to their show as well.
When Matt and his brother Mitch found out she had the chance to come they were just as excited.
Mitch told us, "I think its awesome of Florida Georgia Line to do that, like Matt said earlier it shows a lot about their character and that they really care about their fans."
Once Halbur and her friend had arrived in Lincoln to make it to the show, she was still in shock to be here.
Halbur said, "It was really generous of the band to think that I deserved tickets when I gave my tickets away I wasn't expecting that and I was really surprised."
Maybe the real message here is good things happen to good people.
Matt said, "It's going to be awesome like I said it's just going to be fun to hang out with him like he said and I'm just looking forward to a great concert."