Wong, Wiedel Win Athlete of the Year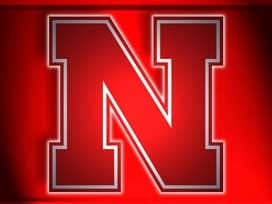 Courtesy: Nebraska Athletics
LINCOLN – Emily Wong and Seth Wiedel captured two of Nebraska's most coveted awards on Sunday, as they were named Nebraska Female and Male Student-Athletes of the Year at the Student-Athlete Recognition Banquet at the Embassy Suites in downtown Lincoln.
Well over 700 people attended the 24th annual banquet, which also featured the announcement of Nebraska's most prestigious team awards. Coach Scott Jacobson's Nebraska women's tennis team captured the Herman Team Grade-Point Average award for the fourth consecutive year and sixth time in program history after posting a combined cumulative GPA of 3.485 in 2013. Coach Bill Spangler's Husker golf team also claimed its fourth consecutive Herman Award on the men's side with a 3.250 GPA in 2013. It was the program's fifth Herman Award in history, since the men's and women's team awards began in 1994 thanks to a generous contribution from Dick and Dale Herman.
Coach Mark Manning's Nebraska wrestling team and Coach Pablo Morales' women's swimming and diving team repeated as winners of the prestigious Life Skills Awards of Excellence, for their exceptional commitment to NU's award-winning Life Skills program.
As Nebraska's Student-Athletes of the Year, Wong and Wiedel will be NU's recipients of the Big Ten Medal of Honor. The conference's most exclusive award was the first of its kind in intercollegiate athletics to recognize academic and athletic excellence. The Big Ten Medal of Honor was first awarded in 1915 to one student-athlete from the graduating class of each university who had "attained the greatest proficiency in athletics and scholastic work." Big Ten schools currently feature more than 8,200 student-athletes, but only 24 earn this prestigious award on an annual basis. In the 99 years of the Medal of Honor, over 1,300 student-athletes have earned this distinction.
Wong and Wiedel are the fifth and sixth Huskers to earn the honor since Nebraska joined the Big Ten Conference for the first season of competition in 2011-12.
"It is truly an honor," Wong said. "Competing for Nebraska is a dream come true and to get this honor is a blessing. I am so thankful for all of the support everyone has provided me since I have been here. Being a Husker has been an unbelievable experience and being named female student-athlete of the year only makes it more memorable."
As a senior, Wong led Coach Dan Kendig's Husker women's gymnastics team to the Big Ten title while powering NU to the 12-team NCAA Championships this coming weekend in Birmingham, Ala. Along the way, Wong cemented her position as one of the nation's top all-around student-athletes. The 2014 Big Ten Gymnast of the Year, Wong won the Big Ten title on floor after posting just the second 10.0 on the event in Nebraska history. She added a Big Ten title on beam with a career-high 9.95 on the event in 2014, after winning four individual Big Ten crowns in 2013.
The 2014 Seattle Regional All-Around champion, Wong shared event titles on floor and bars at the Seattle Regional to help the Huskers punch their ticket to the national championships. An eight-time All-American at the NCAA Championships through the first three seasons of her career, Wong will take aim at more honors in Birmingham, April 18-20.
In addition to her remarkable accomplishments in competition, Wong was a second-team CoSIDA Academic All-American in 2013 and was named the winner of the Big Ten's Wayne Duke Postgraduate Scholarship. She is a finalist for the 2014 AAI Award presented to the nation's top women's gymnastics student-athlete. The native of Grand Forks, N.D., is a three-time NACGC/W Scholastic All-American and a three-time academic All-Big Ten selection. She is a two-time Big Ten Distinguished Scholar as a nutrition science major at Nebraska.
Wong is the fifth women's gymnast in Husker history to win Nebraska's Female Student-Athlete-of-the-Year award and the first since Stephanie Carter in 2007. Nicole Duval (1995), Shelly Bartlett (1997) and Richelle Simpson (2005) were also exceptional representatives of Coach Kendig's gymnastics program as winners of the award.
Wiedel battled to a runner-up showing at the 2014 Big Ten Indoor Championships in the long jump with a season-best tying mark of 24-7 1/4 (7.50) for Coach Gary Pepin's track and field team. Wiedel also finished 11th in the triple jump at the league meet. He added an eighth-place finish in the long jump and a ninth-place showing in the triple jump at the 2013 Big Ten outdoor meet.
A Hebron, Neb., native and graduate of Thayer Central High School, Wiedel was a 2013 Big Ten Distinguished Scholar and claimed academic All-Big Ten honors in both 2012 and 2013. He was also a recipient of a Nebraska Student-Athlete HERO Leadership Award in 2013. He earned spots on the USTFCCCA All-Academic Team in both 2011 and 2013. Wiedel is majoring in business administration at Nebraska.
Wiedel becomes the fourth consecutive Nebraska Male Student-Athlete of the Year from the Husker track and field squad, following Bjorn Barrefors (2013), Tyler Hitchler (2012) and Nicholas Gordon (2011). Overall the men's track and field program has claimed five Male Student-Athlete-of-the-Year awards, including Aaron Plas (2006), since the award's inception at Nebraska in 1991. Seven NU women's track and field student-athletes also have captured the award, giving Coach Pepin's program 12 of the 48 all-time awards.
"I am truly humbled by this recognition," Wiedel said. "I think it's because we all work day in and day out and are surrounded by such great people, including student-athletes and staff. To finally receive such recognition in light of everyone that I work with is humbling and amazing. I think back to the days when getting to the Student-Athlete Academic Banquet was a big deal, and to now receive such an honor in front of all of the student-athletes and staff, who all have such talent and heart, is amazing."
Wong and Wiedel were among the 279 Huskers to earn academic medallions at the banquet. Gold medallions were presented to those for highest academic honors (3.75-4.0 grade-point average). Silver medallions were awarded to those for high honors (3.5-3.749 GPA), while bronze medallions were presented to student-athletes with honors (3.0-3.499 GPA).